| | |
| --- | --- |
| | Bed Vaults |
| | |
| | |
| | |
| | PVS-7 Parts |
| | |
| | Scopecoat Covers |
| | |
| | |
| | |
| | |
| | |
| --- | --- |
| | |
| | Doctor Optic MRD |
| | |
| | |
| | |
| | |
| | |
| --- | --- |
| | GloWands |
| | |
| | |
| | |
| | |
| | |
| | |
| | |
| --- | --- |
| | |
| | AN/PVS-31 BNVD |
| | |
| | |
| | |
| | |
| | BTS Thermal |
| | GPNVG |
| | G15 |
| | |
| | |
| | |
| | |
| --- | --- |
| | |
| | IFF-67 Blood Markers |
| | |
| | |
| | |
| | |
| | |
| --- | --- |
| | |
| | |
| | |
| | AN/PVS-15 |
| | ATN G15 |
| | ATN NVG7 |
| | ATN PVS7 |
| | ATN PS15 |
| | BNVD |
| | ENVG Fusion |
| | SENVG Fusion |
| | SENTINEL BNVS |
| | |
| --- | --- |
| | |
| | AN/PVS-18 M983 |
| | GT14 |
| | |
| | ENVIS M703 |
| | |
| | LRS Surveillance |
| | |
| | |
| | |
| | |
| --- | --- |
| | BTS Thermal |
| | |
| | |
| | |
| | |
| | |
| | |
| | |
| | |
| --- | --- |
| | Bed Vaults™ |
| | |
| | |
| | Extreme Series |
| | Mobile Command |
| | |
| | TrunkVaults™ |
FAQ's
How to Order
Terms & Conditions
<![if !vml]>

<![endif]><![if !vml]>

<![endif]>

***DISCONTINUED***Information purposes only
Gov't: Call for Discount
P/N: TIMPOD32C
Odin Kits Include: Head Mount Assembly w/Brow Pads, J-Bar (Swing Arm Assembly), Rubber Eyecup, CR123A Lithium Battery, Operators Manual, Foam Padded Hard Shipping/Storage Case, Lens Cleaning Tissue, Demist Shield, and Warranty Card







Private labeling options available for large quantity orders
We accept all forms of Gov't payment, including WAWF, CAGE: 36BD2, Dealers Welcome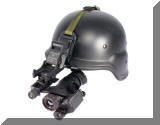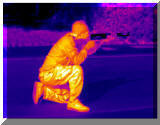 The Odin-32C has become the smallest Thermal Imaging Monocular System today. It features extremely small size and low weight because of its advanced construction and characteristics using the latest technologies in high grade polymers to make a MILSPEC system that is identical in size, weight and shape to a AN/PVS-14.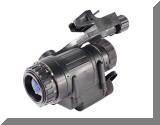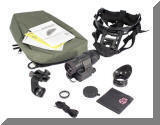 The Odin-32C is a multi-purpose system using the latest in miniature thermal sensor technology combined with the new OLED Display to provide a superior stable image in the smallest package available. The system also includes an array of features that help the user to enhance the sight to meet all of their requirements.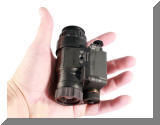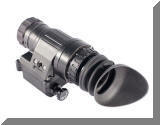 The Odin-32C is one of the most capable Thermal Monocular systems on the market and comes at a very affordable price. The Odin-32C 2X system is designed for Handheld & Headmount operations and uses nearly all the same accessories as the AN/PVS-14 Night Vision Monocular.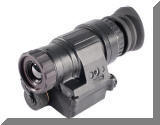 Small & Lightweight, you'll be hard pressed to find another Thermal Imager with such versatility and array of Accessories. Fits easily into your pocket when not in use. See what you've been missing Day or Night, because unlike Image Intensified (I2) Night Vision, the Odin can be used at any time without fear of damage.
Features:
* Ergonomic Design Identical to the Highly Popular PVS-14 Monocular
* Weighs only 12.35 oz/0.77 lbs/350 grams
* 15° x 11° Field Of View (FOV) 27mm Eye Relief
* PVS-14 Construction, MILSPEC Optics
* Head/Helmet Mountable
* Variable Pivot Technology
* 2X Optical Magnification, 4X & 8X E-Zoom
* Icon Based Menu System
* White Hot / Black Hot Selectable, Multiple Color Modes
* 800 x 600 OLED Display, Analog Video Output



These Sights are proudly manufactured in the USA with a 1 Year Warranty
THIS PRODUCT IS NOT AVAILABLE FOR EXPORT
Export of the commodities herein described are strictly prohibited without a valid export license issued by the US Dept of State, Office of Defense Trade Controls, prescribed in the International Traffic in Arms Regulation ITAR, Title 22, Code of Federal Regulations, Parts 120-130. KERIF Night Vision shall not be the exporter either directly or indirectly of any controlled item on behalf of any company, nor shall KERIF Night Vision be held responsible for any expense loss or legal action resulting from any violation of US laws or regulations governing the export of Night Vision Devices, Thermal Imaging Devices, Infrared Lighting & LASER's or any component thereof.
DETECTION & RECOGNITION RANGES
Human Detection
750 meters/2,461 feet/820.2 yards
Human Recognition
300 meters/984.3 feet/328.1 yards
Human Identification
180 meters/590.6 feet/196.9 yards
Vehicle Detection
1,650 meters/5,413 feet/1,804 yards
Vehicle Recognition
660 meters/2,165 feet/721.8 yards
Vehicle Identification
400 meters/1,312 feet/437.4 yards

The Johnson Criteria assumes that the critical dimension for a human is 6' (1.83 meters).
To get Detection, Recognition, and Identification (DRI), you need 1.5 pixels, 6 pixels and 12 pixels respectively across 0.75 meters in the object pane. Therefore:




Vehicle Detection Vehicle Recognition Vehicle Identification
2.8 pixels by 1 pixel 13 pixels by 5 pixels 26 pixels by 10 pixels

Human Detection Human Recognition Human Identification
3.6 pixels by 1 pixel 13 pixels by 5 pixels 28.8 pixels by 8 pixels

SPECIFICATIONS
Sensor (Microbolometer)
320 x 240
Type / Material
Uncooled Vanadium Oxide (VOx)
Image Size
800 x 600 Output Resolution
Magnification
2X
Optical Magnification
4X and 8X
Eye relief
27mm/1.063 inches
Thermal Sensitivity
<50mK
Spectral Response
7 - 14 µm
Lens
35mm/1.378 inches
Field of View
15° x 11°
Start up time
<4 seconds
ELECTRONIC DATA
Frame Rate (Refresh)
30 Hz
Video Output
Analog RS-170
Display
Color OLED Matrix, SVGA < 800 x 600
Battery Type
(1) One CR123A
Battery Life, typical
2+ Hours
MECHANICAL DATA
Material Housing
MILSPEC High Grade Polymer (Identical to the PVS-14)
Material Lens Covers
Rubber, Black
Diopter Adjustment
-6 to +4 Diopters
Mounting
Same mounting options as the PVS-14, Head/Helmet Mount w/Swing Arm (J-Bar), Tripod Mount, Weapons Mount
DIMENSIONS
Length

Width

Height

87 mm (3.425")

56 mm (2.205")

50 mm (1.969")

Weight
350 grams/12.35oz/.7716lbs)
ENVIRONMENTAL DATA
Temperature Range
-45ºC to +71ºC (-49ºF to +159.8ºF)
Water Resistance
Waterproof / Dustproof
Humidity
95% at 20°C (68°F) to 50°C (122°F), cycling
Optional Accessories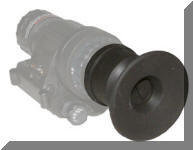 A3256345 Shuttered Rubber Eyeguard (Compress w/Star Opening)
$39.00 / Gov't: $37.50
NSN: 6650-01-444-1229
Prevents illuminating the shooters face for covert operations.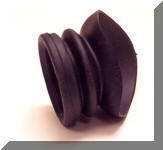 A3144422 Rubber Eyecup $12.75 / Gov't: $11.99
NSN: 5855-01-246-8273
Provides a comfortable platform for your eye. Flexible rubber
A3256353 Demist Shield (Eye piece) $17.50 / Gov't: $16.50
NSN: 5340-01-293-8675
Prevents eyepiece from fogging up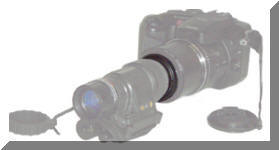 274049-1 Camera Adapter Assembly
46mm to Odin or PVS14 Eyepiece
$42.00 / Gov't: $41.00
NSN: 4310-01-096-1353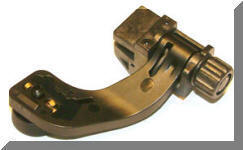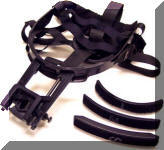 KNV-PVS14-HDMT-Kit Headmount + PVS-14 Swing Arm Interface $165.00 / Gov't: $159.00
Headmount plus Headmount Adapter. Attaches to the NVG and interfaces w/the Head Mount.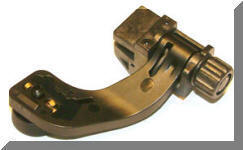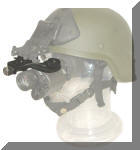 A3256347 Swing Arm or "J-Bar"
$85.00 / Gov't: $81.00
NSN: 5965-01-444-1216
Head Mount & Helmet Mount Adapter. Attaches to the NVG and interfaces w/the Head Mount/Helmet Mount.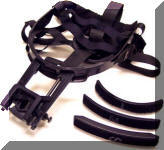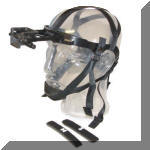 A3144268 Headmount & Browpads
$89.00 / Gov't: $79.00
NSN: 5855-01-246-8266
Allows you to wear your NVG comfortably on your head. Chin strap can be adjusted with 4 different cinch straps and comes w/Small, Medium, and Large Brow Pads for optimal fit.
A3144280 (3) Browpads, Small $9.50 5855-01-355-8599
A3144435 (3) Browpads, Medium $9.50 5855-01-355-8600
A3144436 (3) Browpads, Large $9.50 5855-01-297-7847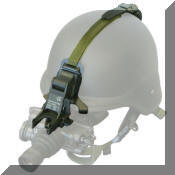 A3256368-1 PASGT Flip-up Helmet Mount
$215.00 / Gov't: $207.50
NSN: 5855-01-457-2953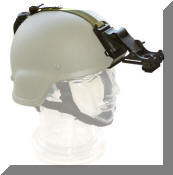 A3256368-2 MICH Flip-up Helmet Mount
$215.00 / Gov't: $207.50
NSN: 5855-01-551-4525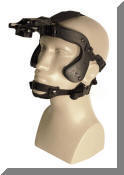 275121-2 Facemask Assembly
$822.25 / Gov't: $804.38
NSN: 5855-01-515-2102

1728010-2 Facemask Assembly $395.53 / Gov't: $395.53
Allows you to wear your NVG comfortably on your head.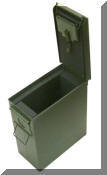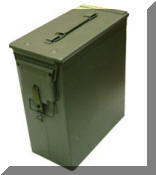 A3264350 Padded Hard Case, OD Green
$88.40 / Gov't: $85.00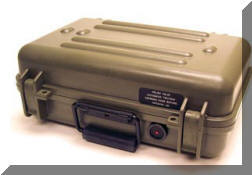 A3144257 Padded Hard Case, Military, OD Green
$109.00
NSN: 5855-01-246-6805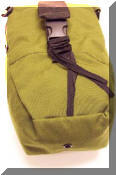 A3187392 Soft Carry/Storage Case, Military, OD Green
$29.95 / Gov't: $21.95
NSN: 5855-01-246-8269 or 5855-01-398-4284

Home | Contact Us | About KERIF | Export Regulations | How to Order
<![if !vml]>

<![endif]> <![if !vml]>

<![endif]>
(702) 324-6463 / (702) 869-8451 FAX