| | |
| --- | --- |
| | Bed Vaults |
| | |
| | |
| | |
| | PVS-7 Parts |
| | |
| | Scopecoat Covers |
| | |
| | |
| | |
| | |
| | |
| --- | --- |
| | |
| | Doctor Optic MRD |
| | |
| | |
| | |
| | |
| | |
| --- | --- |
| | GloWands |
| | |
| | |
| | |
| | |
| | |
| | |
| | |
| --- | --- |
| | |
| | AN/PVS-31 BNVD |
| | |
| | |
| | |
| | |
| | BTS Thermal |
| | GPNVG |
| | G15 |
| | |
| | |
| | |
| | |
| --- | --- |
| | |
| | IFF-67 Blood Markers |
| | |
| | |
| | |
| | |
| | |
| --- | --- |
| | |
| | |
| | |
| | AN/PVS-15 |
| | ATN G15 |
| | ATN NVG7 |
| | ATN PVS7 |
| | ATN PS15 |
| | BNVD |
| | ENVG Fusion |
| | SENVG Fusion |
| | SENTINEL BNVS |
| | |
| --- | --- |
| | |
| | |
| | |
| | |
| | DBAL-A2 |
| | |
| | |
| | |
| | |
| | |
| | |
| | |
| | |
| | |
| | |
| | |
| | |
| --- | --- |
| | |
| | AN/PVS-18 M983 |
| | GT14 |
| | |
| | |
| | |
| | LRS Surveillance |
| | |
| | |
| | |
| | |
| --- | --- |
| | BTS Thermal |
| | |
| | |
| | |
| | |
| | |
| | |
| | |
| | |
| --- | --- |
| | Bed Vaults™ |
| | |
| | |
| | Extreme Series |
| | Mobile Command |
| | |
| | TrunkVaults™ |
Helpful Info
Export Regulations
FAQ's
How to Order
Terms & Conditions

PN: CQB-001-A7 SU-232/PAS
NSN: 5855-01-535-4420


KERIF NV is a CCR Registered Veteran-Owned Small Business CAGE: 36BD2, DUNS: 105547512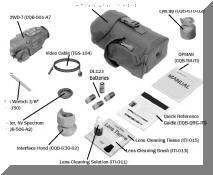 Supplied with: (Click to enlarge Image)
CNVD-T Thermal Weapon Sight, Interface (Collimator) Hood, Soft Carrying Case, (4) DL123 3-Volt Lithium Batteries, Rubber Eyecup, OPMAN w/Quick Reference Guide, Objective Lens Cap, Quick-Disconnect Single Throw Lever Mount, Lens Cleaning Kit (Tissue, Brush & Cleaning Solution), Video Cable, NV Spectrum Filter, 3/8" Box Wrench
1 Year Warranty*
Quickly spot people in the water Day or Night, Cut through Smoke or Fog, See the Unseen in Total Darkness, and Look Past Bright Lights
KERIF Night Vision now carries three more "Top-of-the-Line" Clip On Night Vision Devices (CNVD's) that can be handheld or Weapon-Mounted for Observation, Target Identification or Passive Target Acquisition during the day or in adverse conditions such as light rain & snow, dry smoke, and low light to total darkness. The unit will not allow the user to see through glass, water or heavy rain & snow. These 3 Models, the CNVD-T™, the CNVD-T2™, and the CNVD-T3™ from Insight (L-3) Warrior Systems stand head and shoulders above the crowd when it comes to clarity, versatility, and function. The latest test results are listed below for your review. Notice how far you can see when all the right components are used.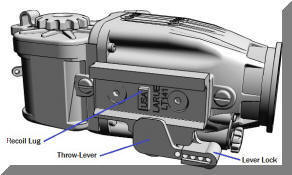 The advanced design of the CNVD-T (Military Nomenclature SU-232/PAS) eliminates the typical requirement of removing a primary (day) sighting system since the CNVD-T mounts directly in line with a standard day optical sight. Combining day and night vision sights eliminates the need to re-zero your weapon every time you change-out sights, since the primary sight remains undisturbed.
The Point of Impact remains the same every time *Note 1
An additional advantage to supplementing your primary sighting system with the CNVD-T include maintaining a consistent eye relief and shooting position as well as retaining muscle memory. By operating the locking Quick-Disconnect, Single Throw-Lever mounting system provided (click above image), the CNVD-T easily attaches to any MIL-STD-1913 rail interface system and can be used in conjunction with other optical and Red Dot Sights. The unit may also be used as a hand-held observation device.
*Note 1 The CNVD-T may be placed at any position (forward and aft) on the rail that is most convenient for you. If, however, the CNVD-T is removed from the rail, you should note the position at which it was zeroed, and return it to that same position to ensure that zero is retained.
a. Pull the lever lock out to the full open position.
b. Swing the throw-lever toward the front (objective lens) of the CNVD-T to allow the mounting bracket sufficient space to fit over the MIL-STD-1913 rail.
c. Position the mounting bracket over the rail ensuring that the recoil lug is properly seated in one of the rail's recoil grooves.
CAUTION.. If too much or too little force is required to perform step d., the throw-lever must be adjusted to properly secure to the rail of the host weapon. See paragraph 3.3.1 in the Operators Manual for this adjustment procedure.
d. While pushing down and forward on the CNVD-T, swing the throw-lever toward the back (eyepiece) of the CNVD-T until it is snug against the mounting bracket.
e. Push the lever lock to engage the locking mechanism
When mounting the CNVD-T in-line with a day optic, like the ACOG shown in this image, first stretch the interface hood over the eyepiece of the CNVD-T. Mount the day optic to the rail in accordance with manufacturer's instructions, then mount the CNVD-T to the weapon rail (in front of the optical sight). Ensure the interface hood covers the objective lens of the optic (see Figure on left).
Successfully tested up to 50 cal. The thermal imaging capability of the CNVD-T allows for observation and target identification under adverse conditions including light rain, fog, smoke, light snow, in daylight, low light and even total darkness. The CNVD-T incorporates a reticle used for weapon aiming with the unique capability of being mounted on a weapon in front of a day sight without impacting day optic's aiming point.
Whenever the CNVD-T is not being used, the objective lens cover should be pulled down over the objective lens to protect it from possible damage. The objective lens cover should also be installed when calibrating the CNVD-T.
The eyepiece assembly may be fitted with one or both of the following components: When installed, the Night Vision Spectrum Filter prevents fogging of the eyepiece, and reduces backlighting and loss of Night Vision in low light environments.
When attached, the eyecup reduces emission of stray light from the eyepiece. To install, stretch the base of the eyecup into place over the eyepiece assembly. Rotate the eyecup to obtain a proper eye socket and cheek weld.
Insight Technology 's CNVD-T Clip-on Thermal Sight CQB-001 is a Battery Operated lightweight, multi-platform thermal imager, providing moving man-sized target
detection performance over 500 meters. This Clip-On Night Vision Device CNVD-T by Insight Technologies can be weapon-mounted as a stand-alone night vision sight or in combination with existing day optics. Insight's CQB-001-A7 Thermal Night Vision Device CNVD-T's small size also makes it ideal for hand-held use. The CNVD-T detects and displays available thermal signatures to provide rapid cueing to the operator of potential targets or danger. The sight is passive and does not emit visible or infrared light (except from the eyepiece) that can be detected by the enemy.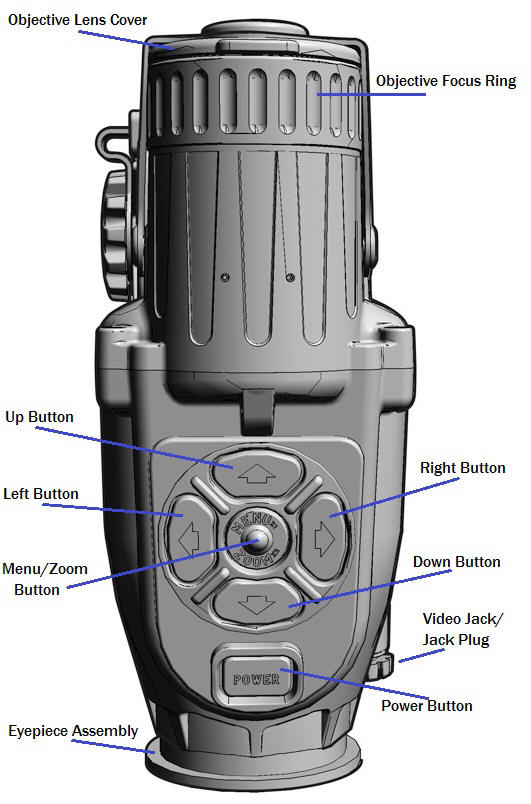 Pressing the POWER button will turn the unit on. The CNVD-T will power up with the same settings selected as when it was last turned off.
With the system powered on, the CNVD-T can be placed in a Standby Mode by pressing and holding the MENU / ZOOM button for about 3 seconds. Pressing any of the LEFT / RIGHT / UP / DOWN buttons will reactivate the unit. Upon "waking" from Standby Mode, the unit will retain all settings entered by the operator prior to being placed in standby. Standby Mode decreases power consumption by approximately 10% by shutting off the eyepiece display.
NOTE: In Standby Mode, the CNVD-T will continue to draw a significant amount of power that will eventually drain the batteries. The unit should be turned off if it is not expected to be used.
To turn off, press and hold the POWER button for approximately 3 seconds as the messages OFF? then OFF! appear sequentially in the eyepiece display. Release the POWER button when the eyepiece display turns dark.
BUTTON FUNCTIONS: The CNVD-T buttons are multi-functional and produce different results depending on how they are pressed and whether or not the Main Menu is displayed.
The MENU / ZOOM button has a raised dimple that allows it to be easily identified by touch. Pressing the MENU / ZOOM button calls up the Main Menu. Pressing the MENU / ZOOM button twice in rapid succession (double-tapping) toggles between a 1x and 2x magnified viewed image.
The UP / DOWN buttons are used to control the brightness of the display. They are also used to scroll through menu items when the Main Menu is displayed.
The LEFT / RIGHT buttons are used to control the contrast (gain) settings of the thermal image. They are also used to scroll through sub-menu options, when displayed.
BRIGHTNESS ADJUSTMENT: When the Main Menu is NOT displayed, pressing either the UP or DOWN button calls up the brightness control settings. Brightness controls are presented in the eyepiece display.


The CNVD-T Thermal Clip-On Night Vision Weaponsight is one of the best new products in our ever growing list of "Top-of-the-Line" products, because everything about them is built to perform. These sights are manufactured to the highest quality standards required from our U.S. Military, utilizing the latest proprietary technology, State of the Art manufacturing facilities, and an engineering team that worked hand in hand with our Military & Special Forces Groups to produce the absolute best Thermal Night Vision Weaponsight that works with your existing Day Scopes.
Fast Facts:
* Converts existing optics to Thermal Night Vision with "Zero Shift
* Quick-Disconnect Single Throw Lever Mount for MIL-STD-1913 Rail Systems
* Maintains shooting position and eye relief time after time
* L-3 Electro-Optical Systems "Know How"
* Optimized for 4X - 12X Magnified Rifle Scopes
* Contrast Adjust for Optimal User Defined Image
* Black Hot / White Hot Polarity Selection

These CNVD's are built in the USA and have ergonomically designed interface controls that comprise of Contrast, Reticle and Focus Adjustments, White Hot/Black Hot Polarity Selection, and a Single Throw Lever Quick-Disconnect Mount.
Significant L-3 EOS design improvements will show itself the first time you use it, as the CNVD-T is a unique "Clip-On" Thermal Sight (similar the the military style AN/PVS-27) used by US Special Operations Forces to gain the advantage Day or Night without sacrificing their existing Day Scopes. No more having to remove your expensive dedicated day scope, that you spent time zeroing in, just because the sun goes down. Now, you simply Clip-On this 1X (Unity) Night Vision Scope in front of your Day Scope to keep getting the ranges required by our Special Forces Groups to "Reach Out And Touch Someone".
EXPORT LICENSE REQUIRED.
Export of the commodities herein described are strictly prohibited without a valid export license issued by the US Dept of State, Office of Defense Trade Controls, prescribed in the International Traffic in Arms Regulation ITAR, Title 22, Code of Federal Regulations, Parts 120-130



Night Vision Sights are restricted to domestic U.S. sales to U.S. Citizens only
Please be prepared to provide credentials when ordering.
Target Identification Ranges (Subject to change without notice)
Detection Parameters
CNVD-T
CNVD-T2
CNVD-T3
Stationary
≈62m
m
m
Moving
≈90m
m
m
Target Recognition Ranges (Subject to change without notice)
Stationary
≈165m
m
m
Moving
≈220m
m
m
Target Detection Ranges (Subject to change without notice)
Stationary
≈420m
m
m
Moving
≈560m
m
m
* Eliminates requirements to remove a primary daytime sighting system when converting to Night Vision
* Supplements existing primary sighting system
* Maintains consistent eye relief and shooting position, as well as retaining user muscle memory
* Optional AA Battery Conversion Cap
* Manual Gain and Focus Adjustments for custom image optimization
* Can be used with Spotting Scopes and as a Handheld Observation Device
* Optimized for 7.62, .338 LaPua and other common "Sniper-Grade" Weapon Systems
CNVD-T™ Specifications
CNVD-T™ Physical Specifications
Magnification
1X (Unity), 2X Digital Zoom
Sensor / Objective
Vanadium Oxide Uncooled Microbolometer / Germanium
Detector Resolution
320 x 240, 25µm Pixel Pitch
Display
640 x 480 OLED
Video
60 Hertz Frame Rate, NTSC Output
Spectral Response
7 - 14 µm
Sensitivity
50 - 55 mK
Field of View (FOV)
25˚ Degrees Diagonal
Polarity
Single Point Calibration / Selectable White Hot or Black Hot
Minimum Focus Distance
Adjustable, 1 meter, (1 yard) to ∞ Infinity
Diopter Adjust
+6 to -6 Diopter's
CNVD-T™ Boresight Characteristics
Boresight
Adjustable, Auto-Colored Reticle
Accuracy
Aligned to .4 MOA or Better
Repeatability
Within .5 MOA
Retention
Permanent to 1 MOA or Better
Reticle Adjustments
On/Off Reticle Adjustment
CNVD-T™ Environmental & Mechanical Characteristics
Power Sources:
(4) CR123 Lithium Battery
The CNVD-T may be powered by as few as two DL123A lithium batteries. If installing only two batteries, they must occupy slots in the battery compartment that are diagonally across from each other. Operating the CNVD-T with less than four batteries will result in significantly reduced battery run time.
Battery Life:
up to 8 Hours at Room Temperature
Low Battery Power . A low battery message will appear in the eyepiece display when approximately 20 minutes of continuous operation remain. If the batteries are not replaced promptly when the "LOW POWER" message appears, the display quality will deteriorate rapidly.
Dimension: in
L: 6.0 "
W: 2.7"
H: 3.3"
Dimension: cm
L: 15.2 cm
W: 6.9cm
H: 8.4 cm
Total Weight (oz./lbs/g)
22.4 oz / lbs / 635 grams
Color / Finish
Taupe (Sand, Tan) / Corrosion Resistant
Operating Temperature
-32˚C to +50˚C (-25˚F to +122˚F)
Storage Temperature
-40˚C to +71˚C (-60˚F to +160˚F)
Immersion
66' (20m) for 2 Hours
Mounts:
Single-Throw Lever Quick-Disconnect for Picatinny MIL-STD-1913/STANAG 2324
Optional Accessories, Replacement and Spare Parts

Item Description
National Stock Number (NSN)
Part Number

Spare 3-Volt Battery

6135-01-559-9641

DL123ABK

Operator Manual

TBD

CQB-TM-ITI

Quick Reference Guide

TBD

CQB-QRG-ITI

Soft Carrying Case

TBD

ITI-501-01

Interface (Collimator) Hood

5855-01-561-8116

CQB-630-02

Rubber Eyecup

5855-01-579-5688

CQB-670-02

Filter, NV Spectrum

5855-01-579-5695

CQB-506-A2

Video Cable

5855-01-561-8559

TGS-104

Box Wrench, 3/8"

5120-01-582-2832

ITI-150

Lens Cleaning Tissue

5855-01-561-8630

ITI-015

Lens Brush

5855-01-561-8616
ITI-013
Lens Cleaning Solution
6850-01-561-8223
ITI011

Objective Lens Cap

TBD

CQB-626-02

Objective Lens Cap Strap

TBD

CQB-627-02

Lanyard, Battery Door

TBD

CQB-625-A2
Battery Door w/Lanyard
5340-01-561-7933
CQB-011-A2
Retaining Screw, Battery Door Lanyard
5305-01-561-8555
MHW013-23A
Retaining Lug, Battery Door Lanyard

5855-01-561-8085

CQB-193

Washer,

Battery Door Lanyard

5310-01-561-8067

CQB-067-02

Retaining Screw, Video Jack Plug

5303-01-575-3158
MHW013-022AB
Washer, Video Jack Plug
TBD
MS15795-844B
Video Jack Plug
5855-01-561-8141
CQB-635-02
Retaining Strap, Video Jack Plug
5855-01-561-8057
CQB-062-02
WARRANTY INFORMATION
The CNVD-T is under warranty from defects in material and workmanship for a minimum of one (1) year from the date of manufacture. This warranty does not protect against damage due to misuse, mishandling or battery leakage.
NON-WARRANTY INFORMATION
Non-warranty repairs are subject to an evaluation fee. The item will be tested and evaluated for failure, then customer permission and payment terms are obtained prior to any repairs being performed.

Home | Contact Us | About KERIF | Export Regulations | How to Order



(702) 324-6463 / (702) 869-8451 FAX
sales@nitevis.com or kerifnightvision@earthlink.net