Dual Tube Binocular System
The KNV-MM-14B (PVS-15 Style) Dual Mini-Monocular system can be separated for use individually or assembled with a unique bridge mechanism to create a very powerful binocular. Designed for submersion to a depth of 20 meters, this is one lightweight, ruggedized dual-tube night vision goggle system! It features 2 self-contained single battery power Mini-Monoculars and can be weapons mounted, hand held, head mounted or helmet mounted for hands-free tactical operations.
The advantage of the dual-tube design provides increased depth perception to the user for land, sea, or airborne operations. Battery usage for each MM-14 Mini-Monocular can be either a (1) AA 1.5V or CR123 3V Lithium battery, depending on your preference (a AA Battery adapter is provided to give you the choice). .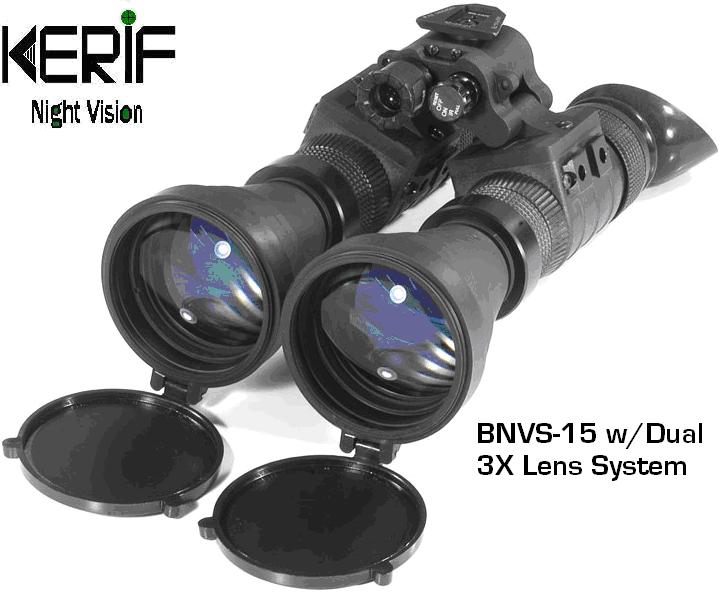 Where long range surveillance is necessary, you can add (2) 3X magnifier press-on lenses, and now you have a 3X Binocular system with enhanced capability and performance.
Rugged Design - The system has been designed to be submersible to 20m, withstand salt fog, high humidity, high altitude, cold weather, shock, and high temperatures. The unit also uses a shoe style head/helmet mount interface design that makes for a more "stable" mount platform. Two LED indicators in the eyepieces give the user low battery and IR on indications for increased awareness.
High Performance - Using High quality optics that are coated to enhance night time operations the NVBS-15 can out perform all other systems on the market. Add high performance Gen III "Pinnacle" tubes and you have the ultimate Dual Tube Night Vision Binocular.