| | |
| --- | --- |
| | Bed Vaults |
| | |
| | |
| | |
| | PVS-7 Parts |
| | |
| | Scopecoat Covers |
| | |
| | |
| | |
| | |
| | |
| --- | --- |
| | |
| | Doctor Optic MRD |
| | |
| | |
| | |
| | |
| | |
| --- | --- |
| | GloWands |
| | |
| | |
| | |
| | |
| | |
| | |
| | |
| --- | --- |
| | |
| | AN/PVS-31 BNVD |
| | |
| | |
| | |
| | |
| | BTS Thermal |
| | GPNVG |
| | G15 |
| | |
| | |
| | |
| | |
| --- | --- |
| | |
| | IFF-67 Blood Markers |
| | |
| | |
| | |
| | |
| | |
| --- | --- |
| | |
| | |
| | |
| | AN/PVS-15 |
| | ATN G15 |
| | ATN NVG7 |
| | ATN PVS7 |
| | ATN PS15 |
| | BNVD |
| | ENVG Fusion |
| | SENVG Fusion |
| | SENTINEL BNVS |
| | |
| --- | --- |
| | |
| | AN/PVS-18 M983 |
| | GT14 |
| | |
| | ENVIS M703 |
| | |
| | LRS Surveillance |
| | |
| | |
| | |
| | |
| --- | --- |
| | BTS Thermal |
| | |
| | |
| | |
| | |
| | |
| | |
| | |
| | |
| --- | --- |
| | Bed Vaults™ |
| | |
| | |
| | Extreme Series |
| | Mobile Command |
| | |
| | TrunkVaults™ |
FAQ's
How to Order
Terms & Conditions
Odin Thermal Monoculars
***DISCONTINUED***Information purposes only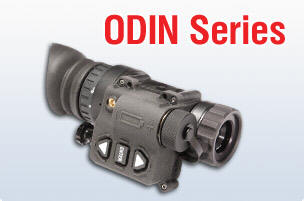 Infrared surveillance cameras and Thermal Imaging Systems are frequently used in perimeter security and surveillance applications and allow the user to see through most weather conditions day or night. They are truly amazing instruments that have many uses in everyday life. Thermal Infrared Cameras are used extensively by the United States armed forces and are incorporated into air, sea and land aircrafts and vehicles. Hand-held Goggles, Scopes, Binoculars, Sights are also used extensively by ground forces for general theatre scanning, target acquisition and sighting.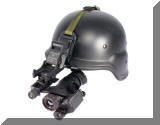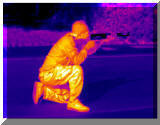 The Odin-Monocular Series has become the smallest Thermal Imaging Monocular Systems on the market today. It features extremely small size and low weight because of its advanced construction and characteristics using the latest technologies in high grade polymers to make a MILSPEC system that is identical in size, weight and shape to a AN/PVS-14.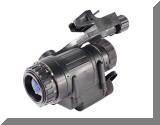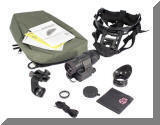 The Odin-Monocular Series is a multi-purpose system using the latest in miniature thermal sensor technology combined with the new OLED Display to provide a superior stable image in the smallest package available. The system also includes an array of features that help the user to enhance the sight to meet all of their requirements.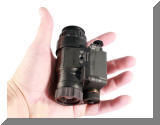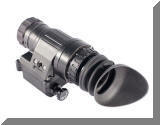 The Odin-Monocular Series is one of the most capable Thermal Monocular systems on the market and comes at a very affordable price. Designed for Handheld & Headmount operations and uses nearly all the same accessories as the AN/PVS-14 Night Vision Monocular.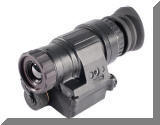 Small & Lightweight, you'll be hard pressed to find another Thermal Imager with such versatility and array of Accessories. Fits easily into your pocket when not in use. See what you've been missing Day or Night, because unlike Image Intensified (I2) Night Vision, the Odin can be used at any time without fear of damage. Designed to use the same accessories as the AN/PVS-14, the Odin-Monocular Series has many options available for head mounting. The easiest is the easy to use J-Arm bracket and a standard head mount. The system design has been proven effective and reliable as well as functional. The Odin-series is a perfect compliment to any user of night vision monoculars.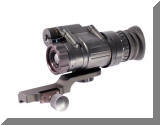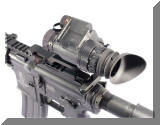 An optional digital reticle aiming system is also available.
We are required to adhere to a Minimum Advertised Price (MAP) by the manufacturer, and anyone not listing this minimum price is breaking the rules, so if you find a better price advertised anywhere, please let us know and we will try to meet or beat that price!
| | | | | |
| --- | --- | --- | --- | --- |
| Part# | Odin Thermal Monoculars | MSRP | NSN/UPC | List |
| TIMPOD31C | Odin-31C 320x240, 17mm, 30Hz, 17µ | $6,199.00 | 658175113515 | $5,999.00 |
| TIMPOD31D | Odin-31D 320x240, 17mm, 60Hz, 17µ | $6,699.00 | 658175113522 | $6,499.00 |
| TIMPOD32C | Odin-32C 320x240, 35mm, 30Hz, 17µ | $6,699.00 | 658175113539 | $6,499.00 |
| TIMPOD32D | Odin-32D 320x240, 35mm, 60Hz, 17µ | $7,199.00 | 658175113546 | $6,999.00 |
| TIMPOD6WB | Odin-6WB 640x480, 17mm, 30Hz, 17µ | $10,199.00 | 658175113553 | $9,999.00 |
| TIMPOD61B | Odin-61B 640x480, 35mm, 30Hz, 17µ | $10,699.00 | 658175113560 | $10,499.00 |
Human
Vehicle

320x240

Detect Recognize Identify

Detect Recognize Identify

Mag

E-Zoom

FOV

Length

Width

Height

Weight

500 m 1640 ft 547 yds
225 m 738.2 ft 246 yds
135 m 442.9 ft 148 yds
1100 m 3,609 ft 1203 yds
495 m 1624 ft 541.3 yds
300 m 984.3 ft 328 yds
1X
2X
4X
24°x 18°
87 mm 3.43"
56 mm 2.21"
50 mm 1.97"
350 g 12.35 oz 0.77 lbs
500 m 1640 ft 547 yds
225 m 738.2 ft 246 yds
135 m 442.9 ft 148 yds
1100 m 3,609 ft 1203 yds
495 m 1624 ft 541.3 yds
300 m 984.3 ft 328 yds
1X
2X
4X
24°x 18°
87 mm 3.43"
56 mm 2.21"
50 mm 1.97"
350 g 12.35 oz 0.77 lbs
750 m 2461 ft 820 yds
300 m 984.3 ft 328 yds
180 m 591 ft 197 yds
1650 m 5413 ft 1804 yds
660 m 2165 ft 722 yds
400 m 1312 ft 438 yds
2X
4X
8X
15°x 11°
87 mm 3.43"
56 mm 2.21"
50 mm 1.97"
350 g 12.35 oz 0.77 lbs
750 m 2461 ft 820 yds
300 m 984.3 ft 328 yds
180 m 591 ft 197 yds
1650 m 5413 ft 1804 yds
660 m 2165 ft 722 yds
400 m 1312 ft 438 yds
2X
4X
8X
15°x 11°
87 mm 3.43"
56 mm 2.21"
50 mm 1.97"
350 g 12.35 oz 0.77 lbs

640x480

Detect Recognize Identify

Detect Recognize Identify

Mag

E-Zoom

FOV

Length

Width

Height

Weight

500 m 1640 ft 547 yds
225 m 738.2 ft 246 yds
135 m 442.9 ft 148 yds
1100 m 3,609 ft 1203 yds
495 m 1624 ft 541.3 yds
300 m 984.3 ft 328 yds
0.5X
1X
2X
4X
48°x36°
87 mm 3.43"
56 mm 2.21"
50 mm 1.97"
350 g 12.35 oz 0.77 lbs
750 m 2461 ft 820 yds
300 m 984.3 ft 328 yds
180 m 591 ft 197 yds
1650 m 5413 ft 1804 yds
660 m 2165 ft 722 yds
400 m 1312 ft 438 yds
1X
2X
4X
8X
24°x 18°
87 mm 3.43"
56 mm 2.21"
50 mm 1.97"
350 g 12.35 oz 0.77 lbs
Odin-320
Odin-640
POD31C
POD31D
POD32C
POD32D
POD6WB
POD61B
Sensor (320 x 240)
♦
♦
♦
♦
Sensor (640 x 480)
♦
♦
- - - - - - - - - - - - - - - - - - - - - - - - - - - - - - - - - - - - - - - - - - - - - - - - - - - - - - - - - - - - - - - - - - - - - - - - - - - - - - - - - - - - - - - - - - - - - - - - - - - - - - - - - - - - -
Material: Vandium Oxide
♦
♦
♦
♦
♦
♦
- - - - - - - - - - - - - - - - - - - - - - - - - - - - - - - - - - - - - - - - - - - - - - - - - - - - - - - - - - - - - - - - - - - - - - - - - - - - - - - - - - - - - - - - - - - - - - - - - - - - - - - - - - - - -
Micron Pitch
17µ
17µ
17µ
17µ
17µ
17µ
- - - - - - - - - - - - - - - - - - - - - - - - - - - - - - - - - - - - - - - - - - - - - - - - - - - - - - - - - - - - - - - - - - - - - - - - - - - - - - - - - - - - - - - - - - - - - - - - - - - - - - - - - - - - -
Image Resolution 800x600
♦
♦
♦
♦
♦
♦
- - - - - - - - - - - - - - - - - - - - - - - - - - - - - - - - - - - - - - - - - - - - - - - - - - - - - - - - - - - - - - - - - - - - - - - - - - - - - - - - - - - - - - - - - - - - - - - - - - - - - - - - - - - - -
Selectable Reticle
- - - - - - - - - - - - - - - - - - - - - - - - - - - - - - - - - - - - - - - - - - - - - - - - - - - - - - - - - - - - - - - - - - - - - - - - - - - - - - - - - - - - - - - - - - - - - - - - - - - - - - - - - - - - -
Magnification
1X
1X
2X
2X
0.5X
1X
- - - - - - - - - - - - - - - - - - - - - - - - - - - - - - - - - - - - - - - - - - - - - - - - - - - - - - - - - - - - - - - - - - - - - - - - - - - - - - - - - - - - - - - - - - - - - - - - - - - - - - - - - - - - -
Optical Mag. (E-Zoom)
2X
4X
2X
4X
4X
8X
4X
8X
1x
2X
4X
2X
4X
8X
- - - - - - - - - - - - - - - - - - - - - - - - - - - - - - - - - - - - - - - - - - - - - - - - - - - - - - - - - - - - - - - - - - - - - - - - - - - - - - - - - - - - - - - - - - - - - - - - - - - - - - - - - - - - -
27mm Eye Relief
♦
♦
♦
♦
♦
♦
- - - - - - - - - - - - - - - - - - - - - - - - - - - - - - - - - - - - - - - - - - - - - - - - - - - - - - - - - - - - - - - - - - - - - - - - - - - - - - - - - - - - - - - - - - - - - - - - - - - - - - - - - - - - -
<50mK Thermal Sensitivity
♦
♦
♦
♦
♦
♦
- - - - - - - - - - - - - - - - - - - - - - - - - - - - - - - - - - - - - - - - - - - - - - - - - - - - - - - - - - - - - - - - - - - - - - - - - - - - - - - - - - - - - - - - - - - - - - - - - - - - - - - - - - - - -
7-14 µm Spectral Response
♦
♦
♦
♦
♦
♦
- - - - - - - - - - - - - - - - - - - - - - - - - - - - - - - - - - - - - - - - - - - - - - - - - - - - - - - - - - - - - - - - - - - - - - - - - - - - - - - - - - - - - - - - - - - - - - - - - - - - - - - - - - - - -
Objective Lens (mm)
17
17
35
35
17
35
- - - - - - - - - - - - - - - - - - - - - - - - - - - - - - - - - - - - - - - - - - - - - - - - - - - - - - - - - - - - - - - - - - - - - - - - - - - - - - - - - - - - - - - - - - - - - - - - - - - - - - - - - - - - -
Field of View (H x V) (Degrees)
24°
18°
24°
18°
15°
11°
15°
11°
48°
36°
24°
18°
- - - - - - - - - - - - - - - - - - - - - - - - - - - - - - - - - - - - - - - - - - - - - - - - - - - - - - - - - - - - - - - - - - - - - - - - - - - - - - - - - - - - - - - - - - - - - - - - - - - - - - - - - - - - -
Frame Rate Hz (Refresh)
30
60
30
60
30
30
- - - - - - - - - - - - - - - - - - - - - - - - - - - - - - - - - - - - - - - - - - - - - - - - - - - - - - - - - - - - - - - - - - - - - - - - - - - - - - - - - - - - - - - - - - - - - - - - - - - - - - - - - - - - -
< 4 Sec Start Up
♦
♦
♦
♦
♦
♦
- - - - - - - - - - - - - - - - - - - - - - - - - - - - - - - - - - - - - - - - - - - - - - - - - - - - - - - - - - - - - - - - - - - - - - - - - - - - - - - - - - - - - - - - - - - - - - - - - - - - - - - - - - - - -
(1) CR123A Operation
♦
♦
♦
♦
♦
♦
- - - - - - - - - - - - - - - - - - - - - - - - - - - - - - - - - - - - - - - - - - - - - - - - - - - - - - - - - - - - - - - - - - - - - - - - - - - - - - - - - - - - - - - - - - - - - - - - - - - - - - - - - - - - -
2+ Hr Operation (Typical)
♦
♦
♦
♦
♦
♦
- - - - - - - - - - - - - - - - - - - - - - - - - - - - - - - - - - - - - - - - - - - - - - - - - - - - - - - - - - - - - - - - - - - - - - - - - - - - - - - - - - - - - - - - - - - - - - - - - - - - - - - - - - - - -
Diopter Adj. (-6 to +2)
♦
♦
♦
♦
♦
♦
- - - - - - - - - - - - - - - - - - - - - - - - - - - - - - - - - - - - - - - - - - - - - - - - - - - - - - - - - - - - - - - - - - - - - - - - - - - - - - - - - - - - - - - - - - - - - - - - - - - - - - - - - - - - -
Waterproof/Dustproof
♦
♦
♦
♦
♦
♦

Home | Contact Us | About KERIF | Export Regulations | How to Order
<![if !vml]>

<![endif]> <![if !vml]>

<![endif]>
(702) 324-6463 / (702) 869-8451 FAX
sales@nitevis.com or kerifnightvision@earthlink.net