<![if !vml]>

<![endif]>
ThermoSight R-Series Thermal Weapon Sight
The new scope from the infrared leader

The FLIR ThermoSight® R-Series is the world's first line of commercial Thermal Night Vision rifle scopes for hunters starting at under $3,500.00. Compact and easy-to-use, the R-Series combines the features you want with the thermal performance you expect and delivers rock-solid thermal imaging for seeing predators and varmints in zero light or in the Daytime.
The FLIR ThermoSight® is a High-Resolution Thermal Weaponsight that mounts on any Picatinny (MIL-STD-1913) rail and is the ideal night vision scope because it detects heat energy, instead of light. Conventional image intensified (I2) night vision scopes require illumination from moonlight or other sources, and can't reveal what's hiding in the shadows or in low-contrast environments.
Built by the leader in Infrared Technology, the ThermoSight® R-Series delivers the range of features you want—with the thermal performance you expect.

Stock available, please email for any additional unadvertised discounts
We are required to adhere to a Minimum Advertised Price (MAP) by the manufacturer, and anyone not listing this minimum price is breaking the rules, so if you find a better price advertised anywhere, please let us know and we will try to meet or beat that price!
ThermoSight Kits Include: LaRue Mount, USB Charging Cable, USB Video Cable (Except RS24), Hard Case, Eyecup, Lens Caps, Lens Cleaner, AC Wall Charger, Quick Start Guide and User Manual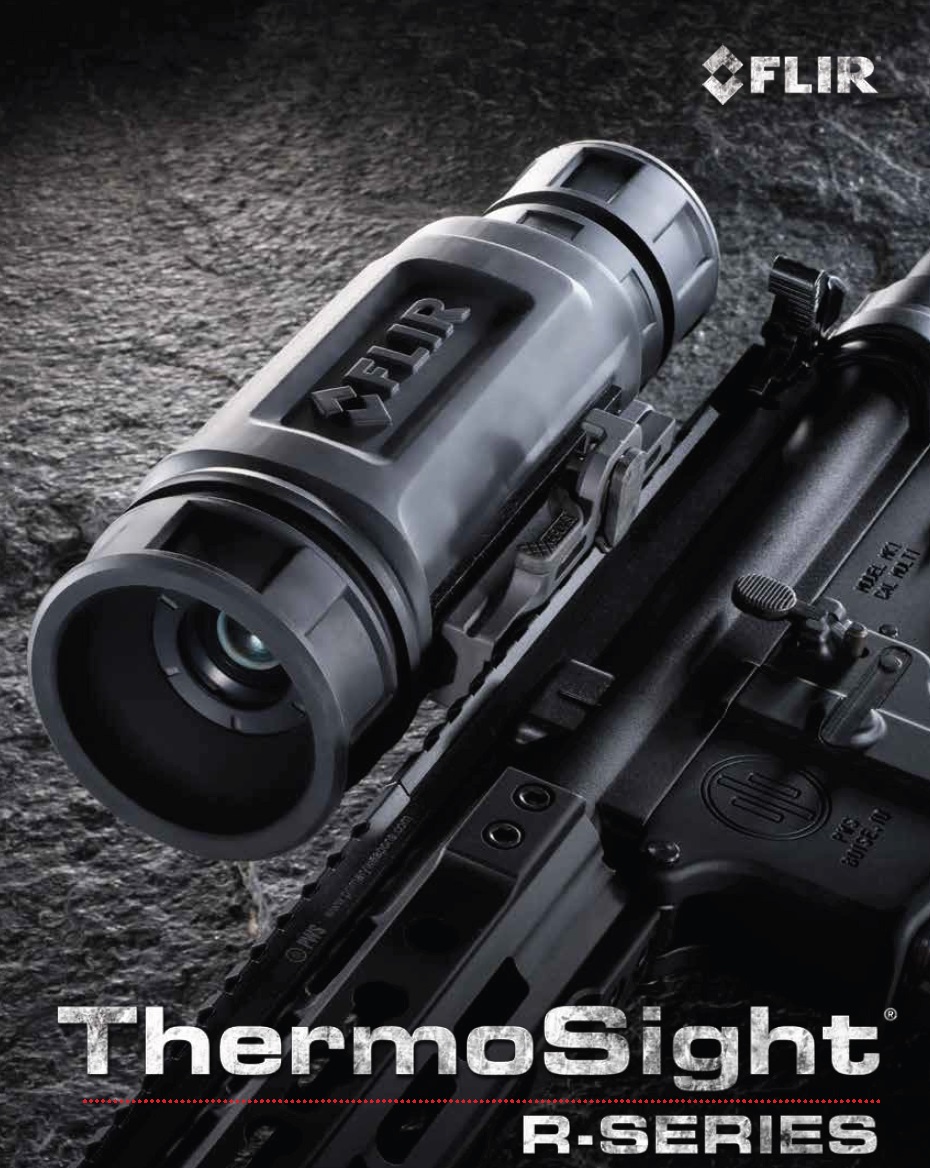 FLIR has been making Thermal Imaging Systems for as long as people have been using the technology, but historically they have always been for governments, and priced beyond the typical consumer's budget. The R-series of thermal weapon sights are the latest offering from FLIR Personal Vision systems, and offer an impressive system for an affordable price. Unlike the T-60, T-70, and T-75 series, the RS units top out under $9,000. The entry level unit, the RS-24 has an MSRP of $3,499.00.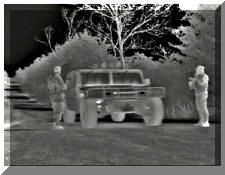 Like the ATN Odin or the Armasight Zeus: the ThermoSight RS is a stand-alone rifle sight built on FLIR's Tau-2 core with a variety of color palettes and reticles which is much less a "TV screen" and more like a traditional rifle optic with 3" of eye relief and integral Larue mount. With a 640×480 display in all models, you get a clear image through the sight. Recoil is always an issue with rifle mounting Optoelectronics, and FLIR has built a recoil reduction system into the sight. A strategic structural design means that the R-Series is rated for recoil up to a semi-auto .308.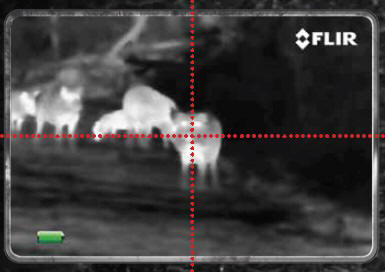 The lowest magnification and sensor is a basic 1X lens with a 240×180 detector and the highest is a 16X option with a 640×480 detector. Reticles are identical between models, but some color palettes are reserved for the higher end units. Interestingly the 320×240 scopes run at a lightning fast 60 Hz, while the base models, and the long range 640×480 options run at the standard 30hz. The high magnification units use a manual focus while the smaller lens units are an autofocus. All units have ± 6 eyepiece Diopter that can compensate for different shooter's eyes.

The FLIR ThermoSight R-Series Multi-Reticle Riflescope offers a range of lenses to suit your varmint hunting needs. The scope contains the most advanced image correction technology available, and optimizes images automatically.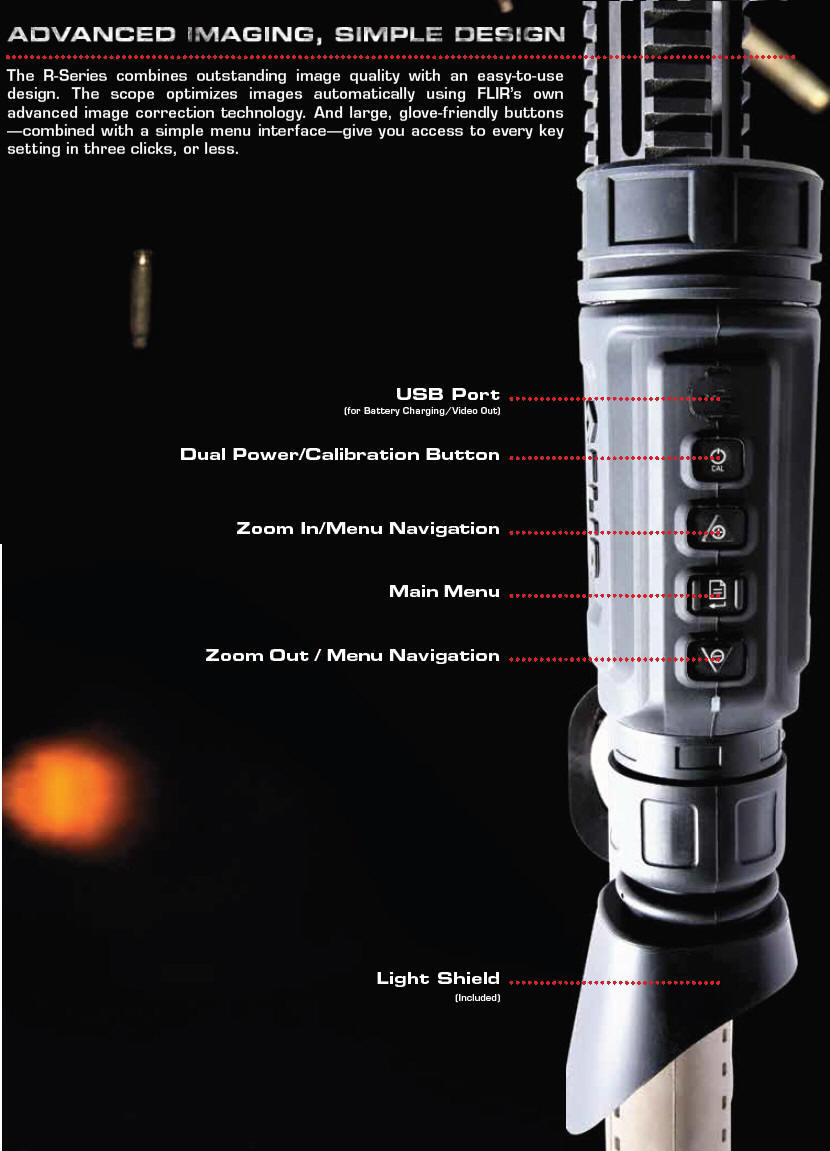 What's the right Field-of-View for you?
The ThermoSight R-Series offers a range of lenses to suit your Hunting Needs. The images below show how different lenses impact the Field-of View (FOV) of a scope using 320 x 240 resolution scanning hogs at approximately 50 Yards.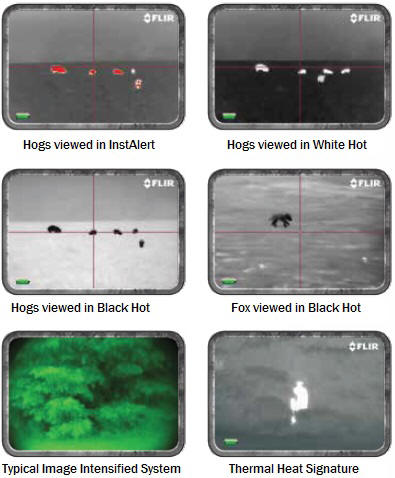 Along with fixed lens options of 13mm, 19mm, 35mm, and 60mm, the R-Series provides three inches of eye relief, up to 16X digital zoom, and multiple reticle options with a repeatable and dependable zero.
Select between "white hot," "black hot," and "InstAlert" palettes, and capture memorable moments with video out (on most models).
Offering up to six different detection palettes, including FLIR's exclusive InstAlert™, which displays the hottest temperatures in RED so you can detect animals, people and other warm objects more easily. The R-Series combines outstanding image quality with an easy-to-use design. The scope optimizes images automatically using FLIR's own advanced image correction technology. And large, glove-friendly buttons combined with a simple menu interface give you access to every key setting in three clicks, or less.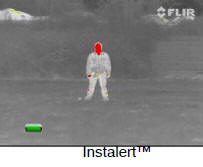 FEATURES

Multiple resolution and lens options

3-inch eye relief with protective eyepiece

Up to 16X magnification

Advanced Image Correction

Small and lightweight

Shock Reduction System

Three reticle settings with a repeatable and dependable zero

Up to six video palettes, including FLIR's exclusive "InstAlert™"

Simple 4-Button Operation

No Batteries Required - Internal Rechargeable Li-Ion Battery

Standard USB interface with included wall charger

Fixed Focus

Color Pallets: Black/White/Sepia/Iron/Red/InstAlert™

Reticle Colors: Black/White/Red/Green

Ingress Protection: IPX7, Submersible 1m for 20 min

On Screen Symbology: Battery Levels, Reticles, eZoom

Three reticle settings with a repeatable and dependable zero

Up to six video palettes, including FLIR's exclusive "InstAlert™"

It's all FLIR inside

BENEFITS

Better image contrast at night than I2 "green" night vision

Lightweight and reliable

Video output (on most models)

Compatible with a 1913 Mil-Std Picatinny Rail System

Internal battery runs >4 hours

Offers mission flexibility as a high-resolution Night Vision weapon sight, handheld as an observation device, or used in other nighttime operations requiring night vision capabilities

Effective on all weapons: MSR semi-automatic up to .308 cal.

Includes FLIR's proprietary Shock Mitigation System™ (SMS™), allowing the unit to be used on weapons up to and including .50 caliber bolt-action rifles

Highly portable design reduces operator fatigue

Large, rugged controls for basic image adjustment

FLIR controls the entire supply chain on the critical technology inside the RS Series ThermoSight's ensuring fast service and long term support
Model
RS-24
RS-32
RS-64
Magnification
1X
1.25-5X
2.25-9X
4-16X
1.1-9X
2-16X
MSRP
$3,499
$3,999
$4,499
$7,499
$6,499
$8,999
FPA
240x180 VOx
336x256 VOx
640x512 VOx
Frame Rate (Hz)
30 Hz
60 Hz
30 Hz
Lens Focal Length
13mm
19mm
35mm
60mm
35mm
60mm
Lens HFOV
20°
16°
9°
5°
18°
10°
Focus
Fixed
Manual
Fixed
Manual
Electronic Zoom
N/A
Up to 4X
Up to 8X
Color Pallets
Black/White/InstAlert™
Black/White/Sepia/Iron/Red/InstAlert™
Eye Relief
3 inches (76.2 mm)
Dimensions in inches
8.0"(L) x 3.3"(W) x 2.9"(H)
Weight
<1.8lb
<2.4lb
<1.8lb
<2.4lb
Reticles
Duplex, Fine Duplex, German
Reticle Colors
White, Black, Red, Green
Diopter Adjustment
+/- 6 Diopters
Operating Temperature
-4° to +122° F (-20° to +50° C)
Storage Temperature
-40° to +140° F (-40° to +60° C)
Waterproof Protection
IPX7, Submersible 1meter for 30 minutes
Weapon Interface
MIL-STD-1913 Picatinny Rail
Battery Life
>4 hours of use
Battery Type
Internal Li-ion Battery
Battery Charging
Standard USB interface with included wall charger
External Battery Pack
Compatible, not included
Display
Active Matrix LCD
Display Resolution
640 x 480
User Interface
Simple four button interface
On Screen Symbology
Battery charge, eZoom state
Weapon Compatibility
MSR semi-automatic up to .308 Cal.
Video Out
No
Yes
Warranty
2 Years Standard, 3 Years (w/registration), 10 Years (thermal sensor only)