The ThermoSight T75 Advanced Combat Thermal Sight utilizes a Long-Wave Thermal Imaging sensor and is a High-Resolution Clip-On Night Vision Device (CNVD) that mounts on any Picatinny (MIL-STD-1913) rail interface forward of an existing scope, adding night vision capabilities to daytime target acquisition platforms.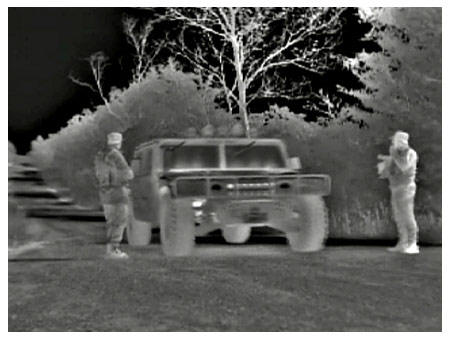 The ACTS-LR has been specifically designed and optimized for long range weapon platforms with an approximate 875 yard identification range. The size and weight make it ideal for tactical small arms such as the FN SCAR-MK16/17, M4/M16, SR25 all the way up to M107 .50 BMG and similar platforms.
The ACTS-LR converts the operation of day scopes to thermal imaging, extending the useful period of operation from daylight into nighttime. By mounting the ACTS-LR directly in front of the day scope, the operator can view the same scene with the ability to sense infrared energy (heat) in all lighting conditions. It is optimized for use with day scopes up to 12X. The ACTS-LR can also be used as a stand alone weapon sight and handheld thermal viewer.
The ACTS-LR is powered by (two or three AA batteries) or (one or two CR123 batteries) installed in any orientation. Using 3 AA Lithium Batteries, you can expect approximately 6 hours of operating time and about 4 hours of operation (at 20°C/68°F) with two CR123 batteries. The batteries can be removed and replaced in the field without removing the ACTS-SR from the weapon system.

These FLIR T75 Thermal Sights are proudly manufactured in the USA
The FLIR T75 was developed for SOCOM for use with long range magnified optics. It is optimized to provide the best image when paired with an 8X Magnified Scope, but can be used with scopes up to 12-14x without much loss of clarity due to its native 640×512 sensor. This high resolution sensor and 17 micron detector provides incredibly sharp detail and shading for rich images and easier target identification.
The FLIR T75 features the standard white hot/black hot polarity modes. But, it also has the ability to show images in full color using several palette options.
Gray (Grayscale) Palette provides maximum contrast on targets against a uniform background using black and white shades.
Iron Palette provides a color scale that goes from dark red through yellow to white to represent increasing temperatures.
Rain (Rainbow) Palette uses all the colors of the rainbow from red through green, blue, and yellow to violet to represent increasing temperatures.
Ice (Fire & Ice) Palette displays blue for cold targets and red for hot targets.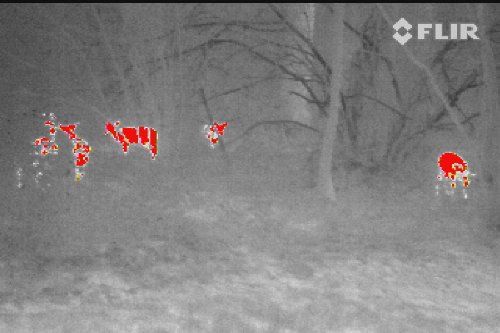 Another useful feature of the T75 is the remote cable control. This allows the operator to set up the joystick controls elsewhere on the weapon for easier access without breaking the firing grip/position. If you are looking for the ultimate thermal clip-on sight for long range optics, look no further.