Ford Console Vault Fits Specific Vehicles

All of the Console Vault products are handcrafted in the USA,
using the finest quality materials.
Convert Your Factory Ford Storage Console to a Truck Vault – No Vehicle Modifications Needed
These vaults have been engineered to fit perfectly inside your Ford console. Once you lock the Console Vault and close the armrest on your center console, no one will be able to see the vault in your car.
The installation of the Console Safe does not alter the original integrity of the vehicle. No part of the vehicle is cut, drilled, modified, or damaged in any way. Existing factory console bolts are removed and replaced. Leased vehicles are not damaged in any way, and will allow the vehicle to be returned to the dealer in its original condition.
Specific Vehicle Information - S
electing the Right Console Vault for Your Ford Truck
1. Determine your seating configuration of your truck, it's either a bench seat style which requires an arm rest model or it has bucket seats, which require a full floor model.
2. Find your vault model number below or select it from the drop down menu after clicking the coupon code below. You will be given a choice of either a 3 dial combo lock or a key lock for securing your vehicle safe.

Protect Valuables from Theft

| | |
| --- | --- |
| | Cameras |
| | Radar detectors |
| | Portable GPS's |
| | Wallets |
| | Cell phones |
| | Money / credit cards |
| | Jewelry |
| | Vehicle registration (identity theft) |
| | Medications |
Solid Bank Vault Like Construction Triple Guard Lock System

The Ford Console Vault was designed with bank vault technology to help protect contents. The Console Vault is the only mobile safe that features a unique three-point, high-security lock system that cannot be defeated, even if drilled. Console Vault has a "Triple Guard Lock System" incorporated as a latch design like the pins in bank vault doors which greatly increases overall security. This design also includes a front channel which incorporates the lid into the body of the vault, the concept also eliminates all stress off the physical lock itself. This is the finest, most secure product Console Vault has ever made.
High Quality Security Locks - Your Choice: Key or 3 Dial Combination Lock
Each of the Ford / Lincoln Console Vaults offer the choice of a key lock or a 3 dial combo lock. Select your preference from the drop down menu. The following are the features of the Console Vault Locks built into the Ford truck safe.
| | |
| --- | --- |
| | High security barrel key lock |
| | High security dial combination lock |
| | Exclusive lock cam prevents entry to Console Vault if lock is drilled |
| | Bank vault style locking pins just like the ones used on the bank vault doors |
Ford Console Vault Industrial Grade Finish
Each Console Vault is finished in the factory with an industrial grade high-quality powder coat finish that looks like paint, but acts like armor. Powder coating is a dry finishing process used to apply paint to metal surfaces. The safe is placed into a curing oven and covered with finely ground dry powder of colored pigment and resin. While inside the Console Vault is electro-statically charged. This process causes the powder sprayed onto the vault to melt and fuse into a solid coating on all of the vault's metal surfaces. The end result is a tough, good looking, scratch resistant finish.
How to Install a Ford Console Vault Truck Safe
Installation is complete in 10 to15 minutes. Since the Console Vault is made to fit into the existing truck or SUV console, the installation involves removing using the existing factory console bolts. Simply remove the factory screws from the console. Slide your new Console Vault into the existing console tub, and re-screw the bolts you removed originally.
Once your replace the screws, the Console Vault is now securely mounted to your vehicle's metal body. Below the factory plastic console tub, there is a steel mounting bracket with welded nut plates. These 2 screws (sometimes 4 depending on the vehicle) attach through this mounting bracket, providing plenty of security. That's it!
Installation Photographs of the Ford Console Vault

Step by step installation photographs see how easy it is to install a Console Vault is shown below. Click Here.
A Sample View of the Custom Ford Vehicle Vaults
2011 - 2014 Ford Edge

Model No 1048

Console Vault - Center Console Model

Console Vault mounted inside the console of Ford Edge.
Model No. 1026

Gear shifter mounted on flow through floor


Note: If the gear shifter is on the steering column, the F150 Flow Through Console will not fit.

Super Duty

Model No. 1034

2009-2012 Ford Expedition with SYNC SYSTEM*

Model No. 1031

*SYNC SYSTEM factory USB adapter mounted inside the console.
Firearm Safety -- Is Your Handgun Secure in Your Truck Without a Ford Console Vault Truck Safe?
It is your responsibility to know the law and to act accordingly as it applies to properly and safely storing your firearms. What do you do with your handgun when you need to go into a location which restricts your ability to carry it? Do you place it in your car glove box, trunk, or hide it under your car seat? These practices are very irresponsible, and in some cases illegal.
Law enforcement officers especially off-duty, frequently face the concern on how to properly and responsibly secure their weapon. Many public venues such as concert halls, stadiums, and amusement parks will not allow anyone, including law enforcement, to carry a firearm inside.

<![if !vml]>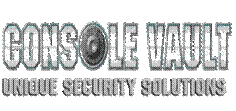 <![endif]>Concealed Weapon Permit Holders: Consider a Ford Console Vault Truck Safe

The Console Vault is an essential item for all handgun permit holders! Permit holders have additional restrictions placed on them from carrying concealed weapons in many private and public buildings including:
Legally posted establishments and (private) property


Federal property such as IRS and INS buildings

Military recruitment offices

Post Offices