| | |
| --- | --- |
| | Bed Vaults |
| | |
| | |
| | |
| | PVS-7 Parts |
| | |
| | Scopecoat Covers |
| | |
| | |
| | |
| | |
| | |
| --- | --- |
| | |
| | Doctor Optic MRD |
| | |
| | |
| | |
| | |
| | |
| --- | --- |
| | GloWands |
| | |
| | |
| | |
| | |
| | |
| | |
| | |
| --- | --- |
| | |
| | AN/PVS-31 BNVD |
| | |
| | |
| | |
| | |
| | BTS Thermal |
| | GPNVG |
| | G15 |
| | |
| | |
| | |
| | |
| --- | --- |
| | |
| | IFF-67 Blood Markers |
| | |
| | |
| | |
| | |
| | |
| --- | --- |
| | |
| | |
| | |
| | AN/PVS-15 |
| | ATN G15 |
| | ATN NVG7 |
| | ATN PVS7 |
| | ATN PS15 |
| | BNVD |
| | ENVG Fusion |
| | SENVG Fusion |
| | SENTINEL BNVS |
| | |
| --- | --- |
| | |
| | |
| | |
| | |
| | DBAL-A2 |
| | |
| | |
| | |
| | |
| | |
| | |
| | |
| | |
| | |
| | |
| | |
| | |
| --- | --- |
| | |
| | AN/PVS-18 M983 |
| | GT14 |
| | |
| | |
| | |
| | LRS Surveillance |
| | |
| | |
| | |
| | |
| --- | --- |
| | BTS Thermal |
| | |
| | |
| | |
| | |
| | |
| | |
| | |
| | |
| --- | --- |
| | Bed Vaults™ |
| | |
| | |
| | Extreme Series |
| | Mobile Command |
| | |
| | TrunkVaults™ |
Helpful Info
Export Regulations
FAQ's
How to Order
Terms & Conditions
<![if !vml]>

<![endif]>
AA PowerGrip Lazer Stik: Steady On only
Visible:$17.73 L.E./Gov't:$17.05
Infrared:$23.24 L.E./Gov't: $22.35
Discontinued***Limited Stock Available
18000 18001 18002 18003 18004





The PowerGrip is a Steady-On only version of the Lazer Stik that can be seen over 2 Km/1.2 Miles and will provide over 50 hours of bright light using common AA batteries. This rugged waterproof light has a handle that forms a comfortable grip as well as an attachment tool. The PowerGrip may well become the replacement of choice over chemical sticks and other less durable light products.
FLOATS UPRIGHT
Size:

7.625" L x 1.25" diameter base

Weight:

2.28 oz. w/ Battery; 1.44 oz. w/o Battery

Visibility:
(On a clear dark night)
Yellow: 0.5 miles
Red: 1.0+ miles
Green: 1.0+ miles
Blue: 0.25 miles
White: 0.25 miles

LED life:

11+ years

Battery life:
(Temp. dependent)
Steady-On: 12-20 hrs
Battery Weight: 0.54 oz ea

Battery type:

AA Alkaline or Lithium Batteries
Advantages over Chemical Lights
* Reusable time after time
* A simple twist of the cap turns the light on and off
* Pays for itself after the first 12 uses vs continuing costs of chemical lights
* Operates in temperatures ranging from -20 C to +50 C
* Waterproof up to 100 meters and even floats upright!
* Environmentally friendly

Light Output
Changes from Steady-On to mode, simply by turning the battery over
* Light can be seen up to .6 miles (1 km) in darkness
* Steady-on provides over 12 hours of operational light on one battery
* Operates in temperatures ranging from -20 C to +50 C
* Lifetime bulb (up to 100,000 hours)
* Uses an eye safe LED

Versatility
* Height impact and scratch resistant
* Weighs only 2.28 oz with batteries installed
* Size: 7.625" inches in length
* Works with Velcro strap accessories used with the Guardian Beacons
* Fits numerous standard chemical light holders

Instructions
* Twist cap clockwise until light comes on.
* To turn light off, twist cap counter-clockwise until light turns off.
* To change batteries, twist cap counter clockwise to remove cap and replace batteries.
* Screw cap back on.
* Replacement batteries available at most retailers
This product is guaranteed to be free of manufacturing defects for a period of one year.
Should the product fail for any reason other than abuse or battery expiration, return it for free repair or replacement.
Accessories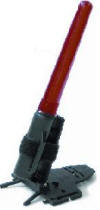 99001 Universal Mount $9.75 ea
The Lazer Stik light attaches to the mount and allows it to be pivoted 180°in 11°steps. The mount can sit flat on hard ground with it's retractable legs and provide a stable base for the Lazer Stik to pivot, it can also be hammered into soft ground with it's built in spike. Like the Lazer Stik its universal mount is unmatched in its form and function. Shown with Red Lazer Stik (not included).

VIP (Visual Identification Projectors) Beacons
The VIP is the pinnacle of portable emergency lighting and signaling
Where positive visual identification is essential.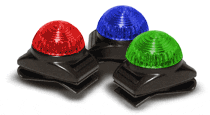 Guardian Beacons
The lightest, brightest, toughest light in its class. In situations where being seen is a must, the guardian sets unsurpassed standards in it's versatility.

Dual Function Lazer Stiks: Flash or Steady On
The Lazer Stik can be seen from over 2 Km / 1.2 Miles and switched from Steady-On to Flashing Mode by simply flipping the battery.
Discontinued***Limited Stock Available


Stealth Illuminators & Strobes
Infrared Vehicle lights come in a wide variety of options and are plentiful, what isn't so common are lights that can take the punishment of military vehicles.


Infrared Spotlights, Flashlights



TACAIR Beacons


Phoenix, Phoenix Jr., SynchroIR Beacons


SIRIS (Survivor's IR Identification Signal)


TIP (Thermal Identification Panels)

LITS (Lightweight Illuminating Transmitting System)



eGlo-Sticks
Customized Kits to your specifications. Tell us what you need and we'll make it!
<![if !vml]>
<![endif]>

Home | Contact Us | About KERIF | Export Regulations | How to Order
<![if !vml]>

<![endif]> <![if !vml]>

<![endif]>
(702) 324-6463 / (702) 869-8451 FAX
sales@nitevis.com or kerifnightvision@earthlink.net