| | |
| --- | --- |
| | Bed Vaults |
| | |
| | |
| | |
| | PVS-7 Parts |
| | |
| | Scopecoat Covers |
| | |
| | |
| | |
| | |
| | |
| --- | --- |
| | |
| | Doctor Optic MRD |
| | |
| | |
| | |
| | |
| | |
| --- | --- |
| | GloWands |
| | |
| | |
| | |
| | |
| | |
| | |
| | |
| --- | --- |
| | |
| | AN/PVS-31 BNVD |
| | |
| | |
| | |
| | |
| | BTS Thermal |
| | GPNVG |
| | G15 |
| | |
| | |
| | |
| | |
| --- | --- |
| | |
| | IFF-67 Blood Markers |
| | |
| | |
| | |
| | |
| | |
| --- | --- |
| | |
| | |
| | |
| | AN/PVS-15 |
| | ATN G15 |
| | ATN NVG7 |
| | ATN PVS7 |
| | ATN PS15 |
| | BNVD |
| | ENVG Fusion |
| | SENVG Fusion |
| | SENTINEL BNVS |
| | |
| --- | --- |
| | |
| | |
| | |
| | |
| | DBAL-A2 |
| | |
| | |
| | |
| | |
| | |
| | |
| | |
| | |
| | |
| | |
| | |
| | |
| --- | --- |
| | |
| | AN/PVS-18 M983 |
| | GT14 |
| | |
| | |
| | |
| | LRS Surveillance |
| | |
| | |
| | |
| | |
| --- | --- |
| | BTS Thermal |
| | |
| | |
| | |
| | |
| | |
| | |
| | |
| | |
| --- | --- |
| | Bed Vaults™ |
| | |
| | |
| | Extreme Series |
| | Mobile Command |
| | |
| | TrunkVaults™ |
Helpful Info
Export Regulations
FAQ's
How to Order
Terms & Conditions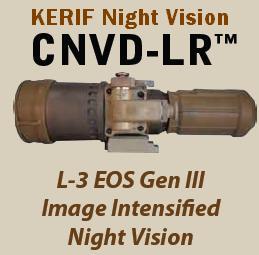 M2124-LR CNVD-LR Ships with:
* Weapon Sight w/Collimator Hood
* CR123 Lithium Battery
* OPMAN
* Soft Carry Case
* Adjustment Wrenches
* Lens Cleaning Kit
* Quick-Disconnect Single Throw Lever Mount
MSRP: No Price Listed
LE/Govt.: $Call for Discount


<![if !vml]>
<![endif]>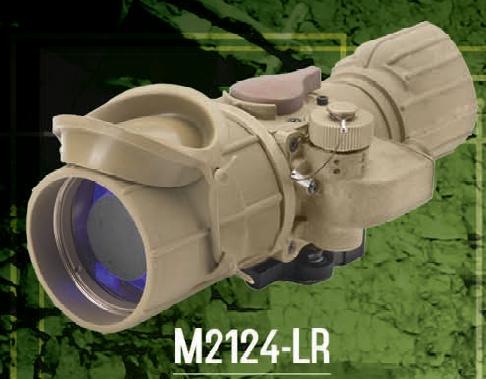 KERIF Night Vision carries some of the best Clip On Night Vision Devices (CNVD) available anywhere. These 2 Models, the CNVD™ and the CNVD-LR™ (Long Range) from L-3 Electro-Optical Systems stand head and shoulders above the crowd when it comes to clarity, versatility, and function. Look at the latest test results listed below for your review, and learn how unbelievably far you can see at night when all the right components are used.
The advanced design of the M2124 eliminates the typical requirement of removing a primary (day) sighting system since the CNVD-LR mounts in line with a standard day optical sight. Combining day and night vision sights eliminates the need to re-zero, since the primary sight remains undisturbed. Additional advantages to supplementing a primary sighting system with the M2124 include maintaining a user's consistent eye relief and shooting position as well as retaining user muscle memory. By operating the locking quick-disconnect, single-throw lever mounting system provided, the M2124 easily attaches to a MIL-STD-1913 rail interface system. The unit may also be used as a hand-held observation device.
The M2124 Generation III Clip-On Night Vision Weaponsight is one of our favorite new products in our ever growing list of "Top-of-the-Line" products, because everything about them screams performance. These sights are manufactured to the highest quality standards required from our U.S. Military, utilizing the latest proprietary technology, State of the Art manufacturing facilities, and an engineering team that worked hand in hand with our Military & Special Forces Groups to produce the absolute best SOCOM Night Vision Weaponsight that works with your existing Day Scopes.
Fast Facts:
* Converts existing optics to Night Vision with "Zero Shift
* Quick-Disconnect Single Throw Lever Mount for MIL-STD-1913 Rail Systems
* Maintains shooting position and eye relief time after time
* L-3 Electro-Optical Systems Gen 3 Image Intensifier (I) Tube
* Optimized for 4X - 12X Magnified Rifle Scopes

These NVG's are built in the USA and have ergonomically designed interface controls that comprise of Manual Gain and Focus Adjustments, Low Battery Indicator and Reverse Polarity Protection, and a Single Throw Lever Quick-Disconnect Mount.
Significant L-3 EOS design improvements will show itself the first time you use it, as the M2124 Long Range is based on the military style AN/PVS-27 extensively used by US Special Operations Forces to gain the advantage at night without sacrificing their existing Day Scopes. No more having to remove your expensive dedicated day scope, that you spent time zeroing in, just because the sun goes down. Now, you simply Clip-On this 1X (Unity) Night Vision Scope in front of your Day Scope to keep getting the ranges required by our Special Forces Groups to "Reach Out And Touch Someone".
EXPORT LICENSE REQUIRED.
Export of the commodities herein described are strictly prohibited without a valid export license issued by the US Dept of State, Office of Defense Trade Controls, prescribed in the International Traffic in Arms Regulation ITAR, Title 22, Code of Federal Regulations, Parts 120-130


Night Vision Sights are restricted to domestic U.S. sales to U.S. Citizens only
Please be prepared to provide credentials when ordering.
Vehicle Recognition Ranges (Subject to change without notice)
Illumination Conditions
CNVD-LR
1400 FOM
CNVD-LR
1600 FOM
CNVD-LR
Auto-Gated

Full Moon

3100m
3250m
3350m

Qtr. Moon

1800m
1900m
2000m
Clear Starlight
800m
900m
1000m
Overcast
<25m
80m
150m
Man Sized target Recognition Ranges (Subject to change without notice)
Illumination Conditions
CNVD-LR
1400 FOM
CNVD-LR
1600 FOM
CNVD-LR
Auto-Gated

Full Moon

1700m
1750m
1800m

Qtr. Moon

930m
970m
1000m
Clear Starlight
400m
450m
500m
Overcast
<25m
60m
90m
Facial Identification Ranges (Subject to change without notice)
Illumination Conditions
CNVD-LR
1400 FOM
CNVD-LR
1600 FOM
CNVD-LR
Auto-Gated

Full Moon

220m
230m
245m

Qtr. Moon

110m
120m
130m
Clear Starlight
50m
55m
60m
Overcast
<25m
<25m
<25m
* Eliminates to need to remove a primary day scope when converting to Night Vision
* Supplements existing primary sighting system
* Maintains consistent eye relief and shooting position, as well as retaining user muscle memory
* Optional AA Battery Conversion Cap
* Manual Gain and Focus Adjustments for custom image optimization
* Can be used with Spotting Scopes and as a Handheld Observation Device
* Optimized for 7.62, .338 LaPua and other common "Sniper-Grade" Weapon Systems
CNVD-LR™ Technical Specifications
Image Tube Performance Parameters by Model
CNVD-LR 1400 FOM
P/N: 245105-1400
CNVD-LR 1600 FOM
P/N: 245105-1600
CNVD-LR Auto-Gated P/N: 245105-S100
Figure of Merit (FOM)
FOM = SNR x Resolution
1152 FOM (Min)
1400 FOM (Max)
1344 FOM (Min)
1600 FOM (Max)
1344 FOM (Min)
No Maximum Limit
Resolution (Line Pairs)
64 lp/mm (Min)
64 lp/mm (Min)
64 lp/mm (Min)
Signal-to-Noise Ratio (SNR)
18:1 (Min)
21:1 (Min)
21:1 (Min)
HALO (mm)
.85 to 1.25
.85 to 1.25
1.0 (Max)
Resolution (cy/mr)
3.86, 4.86 Typical
3.86, 4.86 Typical
3.86, 4.86 Typical
Photocathode Sensitivity 2856˚K (µA/lm)
1350 (Min)
1500 (Min)
1800 (Min)
Photocathode Sensitivity
at 830nm (mA/W)
135 (Min)
155 (Min)
190 (Min)
EBI (x10-11 phot)
5.0 (Max)
5.0 (Max)
2.5 (Max)
Luminance Gain
@2x10-6fc (fL/fc)
40000 - 70000
40000 - 70000
40000 - 70000
Luminance Gain
@2x10-4fc (fL/fc)
10000 - 20000
10000 - 20000
10000 - 20000
Brightness@1 and 20 fc (fl)
2.0 - 4.0
2.0 - 4.0
1.4 - 4.2
Reliability (Hours)
10000
10000
10000
Warranty Tube/System
1 Year / 1 Year
1 Year / 1 Year
1 Year / 1 Year
CNVD-LR™ Physical Specifications
Magnification:
1X (Unity)
Field of View (FOV):
8˚ Degrees (CNVD = 13˚ Degrees)
Focal Length
110 mm (4.3")
Minimum Focus Distance
25 m, (27.3 yards)
Lens
Fast f/1.85 Catadioptric
CNVD-LR™ Boresight Characteristics
Output Optic:
28 mm, (1.1")
Accuracy
Aligned to .4 MOA or Better
Repeatability
Within .5 MOA
Retention
Permanent to 1 MOA or Better
Adjustments
None Required
CNVD-LR™ Environmental & Mechanical Characteristics
Power Sources:
1 CR123 Lithium Battery or (Optional AA Conversion Cap)
Battery Type / Life:
16+ Hours at Room Temp
Dimension: in
L: 9.9 "
W: 3.8"
H: 3.4"
Dimension: cm
L: 25.1 cm
W: 9.7cm
H: 8.6 cm
Total Weight (oz./lbs/g)
875.4g w/Battery (1.9 lbs)
Color:
Taupe
Total Weight (oz./lbs/g)
875.4g w/Battery (1.9 lbs)
Operating Temperature
-40˚C to +51˚C (-40˚F to +124˚F)
Storage Temperature
-51˚C to +71˚C (-60˚F to +160˚F)
Mounts:
Single-Throw Lever Quick-Disconnect for Picatinny MIL-STD-1913/STANAG 2324
Optional Accessories and Spare Parts
Spare Battery (CR123, AA)
AA Battery Conversion Cap

Soft Case, Carrying Commercial

Hard Case Shipping & Storage

Hex Wrench
Adjustment Wrench
Collimator Hood
LaRue "S.T.O.M.P." Mount

Lens Cleaning Kit

Specialty Mounts and Rails
Training & Operator's Manual

Home | Contact Us | About KERIF | Export Regulations | How to Order
<![if !vml]>

<![endif]> <![if !vml]>

<![endif]>
(702) 324-6463 / (702) 869-8451 FAX
sales@nitevis.com or kerifnightvision@earthlink.net