| | |
| --- | --- |
| | Bed Vaults |
| | |
| | |
| | |
| | PVS-7 Parts |
| | |
| | Scopecoat Covers |
| | |
| | |
| | |
| | |
| | |
| --- | --- |
| | |
| | Doctor Optic MRD |
| | |
| | |
| | |
| | |
| | |
| --- | --- |
| | GloWands |
| | |
| | |
| | |
| | |
| | |
| | |
| | |
| --- | --- |
| | |
| | AN/PVS-31 BNVD |
| | |
| | |
| | |
| | |
| | BTS Thermal |
| | GPNVG |
| | G15 |
| | |
| | |
| | |
| | |
| --- | --- |
| | |
| | IFF-67 Blood Markers |
| | |
| | |
| | |
| | |
| | |
| --- | --- |
| | |
| | |
| | |
| | AN/PVS-15 |
| | ATN G15 |
| | ATN NVG7 |
| | ATN PVS7 |
| | ATN PS15 |
| | BNVD |
| | ENVG Fusion |
| | SENVG Fusion |
| | SENTINEL BNVS |
| | |
| --- | --- |
| | |
| | |
| | |
| | |
| | DBAL-A2 |
| | |
| | |
| | |
| | |
| | |
| | |
| | |
| | |
| | |
| | |
| | |
| | |
| --- | --- |
| | |
| | AN/PVS-18 M983 |
| | GT14 |
| | |
| | |
| | |
| | LRS Surveillance |
| | |
| | |
| | |
| | |
| --- | --- |
| | BTS Thermal |
| | |
| | |
| | |
| | |
| | |
| | |
| | |
| | |
| --- | --- |
| | Bed Vaults™ |
| | |
| | |
| | Extreme Series |
| | Mobile Command |
| | |
| | TrunkVaults™ |
Helpful Info
Export Regulations
FAQ's
How to Order
Terms & Conditions
Where "Top-of-the-Line" is always on "Top-of -our-Shelves"!
6X Raptor KIT INCLUDES: Your Choice of (Black Hard Case w/Custom Foam or Black Padded Soft Case w/Storage Pouches), Day Light Lens Cover, 2 AA Batteries, Operator's Manual, Lens Cleaning Paper, Shuttered Eyeguard, Weapons Mount
<![if !vml]>

<![endif]>

KERIF Price: $Call or email SORRY, Sold Out
NSN: 5855-01-465-2170

Raptor 6X Features:

6X Magnification, 5.7˚Circular FOV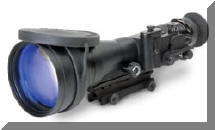 0.2 MIL Elevation & Windage Adjustment

MILDOT Reticle

Common AA Battery Operation or Military BB-5567/U, BA-3058/U

14" x 4.5" x 4.5" and Weighs 5 lbs 8 oz

Shock Protected Optics that are Combat Proven

High Resolution 64lp-72/mm Minimum

Bright Source Protection, Auto Bright Control

The 6X RAPTOR® is a State-of-the-Art Night Vision Weapon sight, incorporating advanced performance GENERATION 3 image tube technology that can detect man-sized targets over a mile away. Rugged yet lightweight construction makes the 6X RAPTOR® very reliable and is the most accurate imaging device available to professional shooters.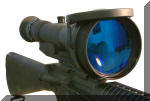 This powerful night vision scope is the envy of the competition and are often laughingly compared to their top products. If you want good enough, look for something else, if you want the best, get the 6X RAPTOR®! No other night vision scope can match its performance, ease of operation or range detection. This scope means business but delivers pleasure!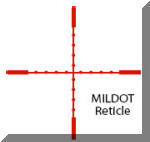 Designed to meet strict military requirements for extreme long range accuracy, the 6X RAPTOR® can be mounted on almost any weapon with an M1913 (Picatinny) Rail, and withstand the shock of full automatic fire of weapons such as the M4, M240, and M60. It can also withstand the recoil of high caliber sniper rifles, including .50 cal BMG (12.7 x 99mm). This Weaponsight incorporates a MIL-DOT Reticle (some models use the Chevron Reticle) with Variable Brightness Control, and can be zeroed with separate Windage and Elevation adjustments.
Optional mount adapters are available for specific mounting needs.
Raptor 6X Applications:

Snipers and Professional Shooters

Corn Farmers with Feral Hog Problems

Ranchers with Coyotes and Varmint Problems
An Objective Lens Cover or Daylight Cover is a rubber cap that protects the objective lens, as well as the image tube, against accidental exposure to bright light. This daylight cover can be utilized for training and bore sighting during low-light conditions such as dawn, dusk or overcast days, by means of a small hole in the center. For night use, the cover can be pulled back on top of the sight. This Daylight Cover may be needed on nights with a full moon especially with snow covered terrain.
A pressure operated rubber "Shuttered" Eyeguard consists of a molded rubber eyecup and an adapter ring which protects the eyepiece optics, provides operator protection from recoil, and prevents light scatter from the image tube from illuminating the shooter's face. Optional extended shuttered Eyeguard's are available.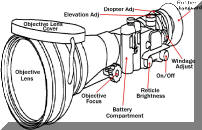 The Objective Focus Knob is used to focus the 6X RAPTOR® for range. With a single wrist movement, the lens can be adjusted to focus distant objects from 98 feet (30mm) to ∞ (Infinity); 82 feet (25mm) to ∞ (Infinity) for the 4X Raptor.
The Elevation and Windage knobs control the Reticle position up or down (Elevation) and right or left (Windage) so the sight can be zeroed on the weapon.
The Eyepiece Focus Ring can be rotated to adjust the eye piece focus from -6 to +2 Diopters to suit the individual user.
Typical operating range is:
2,425 yards\ Moonlight
1,695 yards\ Starlight
840 yards\ Cloud cover
All RAPTOR® units ship with an Generation 3 Ultra High Performance "Prime" Grade image tube and are made in the USA by ITT/Exelis.
Discover what's beyond the range of "Raptor Wannabe's".
Application Comparison of Night Vision Devices
| | | | | | | | | | |
| --- | --- | --- | --- | --- | --- | --- | --- | --- | --- |
| | Hand Held | Head Mount | Camera Mountable | 1 Eye | 2 Eyes | Weapon Mountable | Short Range | Medium Range | Long Range |
| ENVIS | X | | X | X | | | X | | |
| PVS-5 | | X | | | X | | X | | |
| PVS-7 | X | X | | | X | | X | | |
| PVS-7 w/3X | X | X | | | X | | | X | |
| PVS-7 w/5X | X | | | | X | | | | X |
| 5X Binocular | X | | | | | | | | |
| PVS-14 | X | X | X | X | | X | X | | |
| 4X Raptor | | | | X | | X | | X | X |
| 6X Raptor | | | | X | | X | | | X |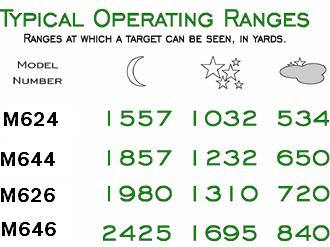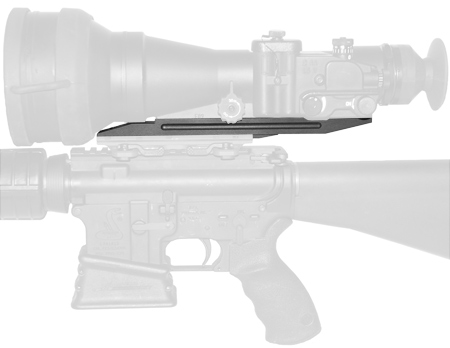 Also available w/4X Magnification
Optional Accessories and Add-Ons

PEL-1500F

Pelican 1500 Hard Case w/Pluck-n-Peel Foam

RE-1
Shuttered Rubber Eyeguard, Fits 4X or 6X

Multibase 1913 Rail/universal NATO STANAG

A-952

MSP NightLink - Spacer for Raptor 6x for Greater Eye Relief for Night Vision or other special needs using A.R.M.S. bases. Mount our 952 Rail on an A.R.M.S. Throw-Lever System, and you have unlimited versatility in either direction. Gives correct height with a greater set-back and throw-lever repeatability.

A.R.M.S. #11
Adapter Attaches to Aquila & Raptor Base
System Technical Specifications

Generation

3

Resolution
64-72 lp/mm
Objective Lens
100mm Diameter
Eye Relief
30mm (Minimum)

Photoresponse

1800 (typical)

Signal To Noise Ratio

19:1 (typical)

Magnification

6X

Field of View

5.7° Circular

Focus Range

98 feet (30m) to ∞ (Infinity)

Diopter Adjust

From -6 to +2 Diopters

Weight

5 lb 8 oz

Power Source Lithium

(2) AA Lithium BA-3058/U BB-5567/U

Battery Life

55 Hours

Dimensions

14" x 4.5" x 4.5"
Other 6X Models
M626, Gen III, FOM 1600
KERIF price: Currently Unavailable
M636, Gen III, FOM 1250
KERIF price: Currently Unavailable
M646P, Gen III "Prime" MILSPEC Grade Tube
KERIF price: Limited Supply Available $Please Call or email for price
EXPORT LICENSE REQUIRED.


Gen 3 Night Vision is ITAR Controlled and cannot be exported without written authorization from the US State Department

Home | Contact Us | About KERIF | Export Regulations | How to Order
<![if !vml]>

<![endif]> <![if !vml]>

<![endif]>
(702) 324-6463 / (702) 869-8451 FAX
sales@nitevis.com or kerifnightvision@earthlink.net