| | |
| --- | --- |
| | Bed Vaults |
| | |
| | |
| | |
| | PVS-7 Parts |
| | |
| | Scopecoat Covers |
| | |
| | |
| | |
| | |
| | |
| --- | --- |
| | |
| | Doctor Optic MRD |
| | |
| | |
| | |
| | |
| | |
| --- | --- |
| | GloWands |
| | |
| | |
| | |
| | |
| | |
| | |
| | |
| --- | --- |
| | |
| | AN/PVS-31 BNVD |
| | |
| | |
| | |
| | |
| | BTS Thermal |
| | GPNVG |
| | G15 |
| | |
| | |
| | |
| | |
| --- | --- |
| | |
| | IFF-67 Blood Markers |
| | |
| | |
| | |
| | |
| | |
| --- | --- |
| | |
| | |
| | |
| | AN/PVS-15 |
| | ATN G15 |
| | ATN NVG7 |
| | ATN PVS7 |
| | ATN PS15 |
| | BNVD |
| | ENVG Fusion |
| | SENVG Fusion |
| | SENTINEL BNVS |
| | |
| --- | --- |
| | |
| | |
| | |
| | |
| | DBAL-A2 |
| | |
| | |
| | |
| | |
| | |
| | |
| | |
| | |
| | |
| | |
| | |
| | |
| --- | --- |
| | |
| | AN/PVS-18 M983 |
| | GT14 |
| | |
| | |
| | |
| | LRS Surveillance |
| | |
| | |
| | |
| | |
| --- | --- |
| | BTS Thermal |
| | |
| | |
| | |
| | |
| | |
| | |
| | |
| | |
| --- | --- |
| | Bed Vaults™ |
| | |
| | |
| | Extreme Series |
| | Mobile Command |
| | |
| | TrunkVaults™ |
Helpful Info
Export Regulations
FAQ's
How to Order
Terms & Conditions
Thermal-Eye X50xp
MSRP: $4,495 LE/Govt.: $2,975.00
P/N: 1000380-0001 NTSC Video Format
P/N: 1000380-0002 PAL Video Format
<![if !vml]>

<![endif]>

* Enhanced DSP Image Processing, Monochrome LCD 320 x 240
* On-Screen Battery Level Indicator
* Small enough to stow in BDU pocket
* 3" Eye Relief for Face Shields and Masks
* Shock Resistant up to 6' drop - Waterproof to 9' - Buoyant
* Left or Right Hand Operation
* White Hot Polarity, True "See-in-the-Dark" Technology
* Auxiliary 9 - 12VDC input & Analog: NTSC or PAL Video Output
* Tactile Battery Loading feature for Stealth Night Operations
* Integral Viewfinder Dimming on On/Off Switch
* Long Eye Relief Viewfinder for facemasks, glasses etc.
* Tripod-Mount w/¼-20Thread

<![if !vml]>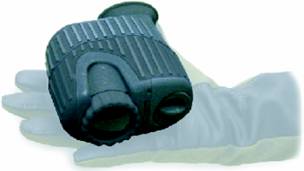 <![endif]>Ships with: Lens Cover, (2) AA Batteries, Clip-on Wrist Lanyard, Neck Strap, Operator Manual, Lens Cleaning Paper, Quick Reference Guide
Optional Accessories:
External DC Power Adapter P/N: 6458-1
External AC Power Adapter P/N: 6453-1
External Video Cable P/N: 7070409-0001
Hard Case P/N: CD11388
Even with the best Image Enhanced Night Vision Scopes, it's difficult to spot your targets if they aren't moving or hidden in the brush. Well, with these Thermal-Eye Imagers, the heat signature makes your target stand out with a bright white glow. Find Feral Hogs wherever they are without much effort because they literally glow with heat. Once you know where they are (Day or Night) you can put the scope on them and take them out.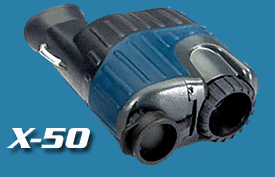 The rugged X50xp thermal imager is small, lightweight, and simple to use. It incorporates digital signal processing with integrated compact optics with attention to ergonomic detail. It has been designed to endure the rigors of outdoor use, occasional rough handling, and accidental submersion for a few minutes in shallow water.
Even with its small design, the image quality is not compromised and maintains high performance at an unparalleled value. The Thermal-Eye X50xp can detect human activity at up to 300 meters (1,000 feet), more than the length of three football fields. With a 30 Hertz 30µm detector, the X50 offers a fast turn-on time and real-time video imaging that is fully dimmable to minimize night blindness.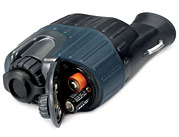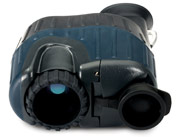 The Thermal-Eye X50xp incorporates Digital Signal Processing (DSP) with integrated compact optics and rugged packaging with attention to ergonomic detail. It has been designed for our Military, Law Enforcement, and Public Safety officials to endure the rigors of outdoor use, occasional rough handling, and accidental submersion for a few minutes in shallow water. Even with its small design, the image quality is not compromised and maintains high performance at an unparalleled value.

<![if !vml]>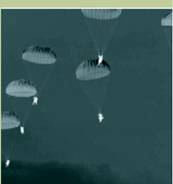 <![endif]> The X50xp provides the Firefighter or Security Officer with Thermal Detection capabilities just by reaching into a pocket. Your hands have better things to do than carry large cameras. Easily find your way through the thickest of smoke, render fog useless and see through camouflage and shadows.
The "Top-of-the-Shelf" Amorphous Silicon Microbolometer Technology found inside the Thermal-Eye X50xp is what permits the imager to be so small and light. Measuring only 5 inches across and weighing only 12 ounces with the battery, it easily fits into the palm of a hand or pocket, perfect for covert operations or convenience.
L-3 Communications Infrared Products delivers superior, high-performance Infrared Technology solutions and camera systems for a wide variety of Thermal Imaging applications. Whether performing critical missions, gathering intelligence or conducting situation analysis, L-3 products perform when the stakes are high. Their Infrared products support reconnaissance and surveillance efforts executed by police officers, military troops, SWAT teams and others performing critical missions.
FEATURES
THERMAL-EYE™ X50xp
Focal Plane Array
Type & Material
Amorphous Silicon Microbolometer
Detector Resolution
100 x 80
Spectral Response
7-14 μm (filter bandwidth)
Thermal Sensitivity
≤150 mK
Performance
Startup Time
~ 5 sec
Detection Range for Human Activity
Up to 1000 Feet (305 meters)
Contrast / Brightness
Fully Automatic
Susceptibility to Blinding Visible Light
None
Infrared Polarity
White Hot
Optics
Lens Focal Length
25mm
Field of View
11° x 8°
Range to Detect Human Activity
Up to 1000 Feet (305 meters)
Minimum Focus Distance
~ 3 ft. (1 meter)
Focus Method
Manual
Video
Output Format
Analog: SMPTE-170 (cf. NTSC or monochrome) on rear outlet jack
Viewfinder Display
Monochrome LCD (320 x 240 pixels)
Viewfinder Dimming
Integral to power on/off switch
Power
Power Source
Two (2) AA batteries
Operating Time
~ 3 Hours with alkaline ~5 Hours with lithium [77°F (25°C), night-time operation]
Auxiliary Power
9 to 12 VDC input on rear outlet jack
Environmental Characteristics
Operating Temperature
14°F to 122°F (-10°C to 50°C)
Storage Temperature
-4°F to 176°F (-20°C to 80°C)
Water & Shock Resistance
Waterproof to 9ft (3m) submersion, buoyant in fresh water Shockproof to 6 ft (2m) drop
EMC Compliance
FCC Part 15 & CE Mark
Physical Characteristics
Size
5 1/4" L x 4 1/2" W x 2" H
(13.4 x 11.4 x 5.1 cm)
Weight
13 oz (381g), batteries installed
Eye Cup
Integral to camera body with 2" eye relief

L-3 Communications Infrared Products offers high-performing cameras to aid in tracking enemy targets, information-gathering and visual observation. With covert detection and long-range capabilities, L-3 Infrared Products has a portfolio of invaluable, high-tech, thermal imaging cameras. For nighttime patrols and search and rescue missions, L-3 Communications Infrared Products provides advanced, turnkey surveillance and detection solutions. Choose between our fixed-mounted and "pan and tilt" offerings to monitor, while in motion, your surroundings.
L-3 Communications Infrared Products helps security professionals overcome many of the vulnerabilities of conventional surveillance technologies. If integrated within a pre-existing surveillance infrastructure, our cameras detect suspicious activity at night and through challenging weather conditions. This full-time, around-the-clock surveillance capability is ideal for protecting facility perimeters, critical infrastructure and high-value assets.


System Technical Specifications

| | | |
| --- | --- | --- |
| | | |
| Detector Type | | Uncooled Amorphous Silicon Microbolometer |
| Spectral Response | | 7 - 14 microns |
| Thermal Sensitivity | | ≤ 50 mK |
| Cold Start Time | | ~5 seconds (typical) |
| Detector Resolution | | 100 x 80 |
| Detection Range | | <300 meters (1000') |
| Focus Range | | 1m to ∞ (infinity) |
| Focal Length | | 25mm |
| Field of View | | 11º x 8º |
| Eye Relief | | 3 inches |
| Frame Rate | | 20Hz NTSC |
| Size | | 5.25" x 4.5" x 2" |
| Weight | | 12 oz. w/batteries |
| Power Source | | (2) AA batteries |
| Infrared Polarity | | White-Hot |
| | |
| --- | --- |
| | Fire, Safety & Hot-Spot Detection |
| | Search and Rescue |
| | Area Sweeps & Border Patrol |
| | Fugitive Search |
| | Covert Operations |
| | Routine Night Patrol |
| | Navigation |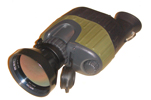 2X or 3X Magnifier Lens for Thermal-Eye X200xp - X150xp - X50xp = $1,495.00
Applicable to the X200xp, X150xp, and the X50xp, these 2X or 3X Magnifier lenses increase the focal length of your camera. No electrical or mechanical adjustments are necessary to the core of the system. Shock and vibration tested. Made of Germanium Oxide which is the same optical material as the Thermal-Eye camera itself.


Applicable to:
Thermal-Eye X200xp Thermal-Eye X150xp Thermal-Eye X50xp
L-3 Communications Infrared Products
Warranty
Products will conform to L-3 IP's current drawings and specifications at the time of delivery and be free from defects in material and workmanship under normal use and service for twelve (12) months, beginning on the date the product is delivered to the customer, or beginning on the date product is placed into service; collectively whichever is the shorter period of time, but in no event shall the period become greater than eighteen months (the "warranty"). L-3 IP's sole obligation, buyer's exclusive remedy, under the warranty is for L-3 IP, at its option, to repair or replace any part of the product which fails to meet the warranty or refund buyer's purchase price, in the form of credit. For warranty repairs/replacements, at L-3 IP's cost for shipping, buyer shall return products to L-3 IP's facility designated by L-3 IP, with a written explanation of failure.

The warranty shall not apply to products;
(i) used for purposes for which they are not designated or intended, or
(ii) which have been repaired or altered without L-3 IP's prior written consent, or
(iii) which have been subjected to misuse, negligence, accident or improper maintenance or installation, or
(iv) upon L-3 IP's examination, do not disclose to L-3 IP's satisfaction nonconformance to the warranty.
In the event the product 'warranty card" is not returned to L-3 IP, proof of purchase shall be required to effectuate the warranty provisions stated herein above.
NO OTHER WARRANTIES, EXPRESS OR IMPLIED, ARE MADE WITH RESPECT TO THIS PRODUCT INCLUDING, BUT NOT LIMITED TO, ANY IMPLIED WARRANTY OF MERCHANTABILITY, NON-INFRINGENT OR FITNESS FOR A PARTICULAR PURPOSE.



Home | Contact Us | About KERIF | Export Regulations | How to Order
<![if !vml]>

<![endif]> <![if !vml]>

<![endif]>
(702) 324-6463 / (702) 869-8451 FAX
sales@nitevis.com or kerifnightvision@earthlink.net