| | |
| --- | --- |
| | Bed Vaults |
| | |
| | |
| | |
| | PVS-7 Parts |
| | |
| | Scopecoat Covers |
| | |
| | |
| | |
| | |
| | |
| --- | --- |
| | |
| | Doctor Optic MRD |
| | |
| | |
| | |
| | |
| | |
| --- | --- |
| | GloWands |
| | |
| | |
| | |
| | |
| | |
| | |
| | |
| --- | --- |
| | |
| | AN/PVS-31 BNVD |
| | |
| | |
| | |
| | |
| | BTS Thermal |
| | GPNVG |
| | G15 |
| | |
| | |
| | |
| | |
| --- | --- |
| | |
| | IFF-67 Blood Markers |
| | |
| | |
| | |
| | |
| | |
| --- | --- |
| | |
| | |
| | |
| | AN/PVS-15 |
| | ATN G15 |
| | ATN NVG7 |
| | ATN PVS7 |
| | ATN PS15 |
| | BNVD |
| | ENVG Fusion |
| | SENVG Fusion |
| | SENTINEL BNVS |
| | |
| --- | --- |
| | |
| | |
| | |
| | |
| | DBAL-A2 |
| | |
| | |
| | |
| | |
| | |
| | |
| | |
| | |
| | |
| | |
| | |
| | |
| --- | --- |
| | |
| | AN/PVS-18 M983 |
| | GT14 |
| | |
| | |
| | |
| | LRS Surveillance |
| | |
| | |
| | |
| | |
| --- | --- |
| | BTS Thermal |
| | |
| | |
| | |
| | |
| | |
| | |
| | |
| | |
| --- | --- |
| | Bed Vaults™ |
| | |
| | |
| | Extreme Series |
| | Mobile Command |
| | |
| | TrunkVaults™ |
Helpful Info
Export Regulations
FAQ's
How to Order
Terms & Conditions

Wilcox's
Aimpoint Comp-M Mount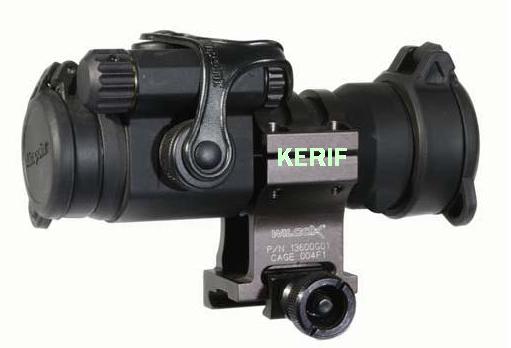 The Wilcox Aimpoint Comp-M Mount is a unique mount that allows an operator to affix a Comp-M Sight to any weapon that has a Picatinny Rail System. For an added nighttime advantage, the Wilcox AN/PVS-14/18 NVG Weapon Mount, (sold separately, see TDS061) allows the operator to mount an AN/PVS-14 or 18 NVG in series, which can position the dot of the Aimpoint Comp-M Sight in the view of the NVG.

<![if !vml]>
<![endif]>
• Securely Attaches the Aimpoint Comp-M Sight to any Weapon that has a Picatinny Rail System
• Easily Integrates with the Wilcox AN/PVS-14/18 NVG Weapon Mount (see TDS061) for an Added Nighttime Advantage when use of an NVG in Conjunction with the Comp-M Sight (AN/PVS-14 setup requires an optional Wilcox AN/PVS-14 Arm with NVG Interface, sold separately, see TDS063)
• Design Approach Cuts Down on Logistics and Overall System Cost
• Each Mechanical Adjustment is Durable and Ergonomically Positioned for Easy One-Handed Operation while Handling a Weapon
• Maintains a Very Low Profile Stance on the Weapon
• Flat Matte Finish for Covertness in Combat Conditions
• Thousands of Mounts of this Type Fielded to Date
• Combat Proven by the US Special Operations Community and Domestic Law Enforcement Personnel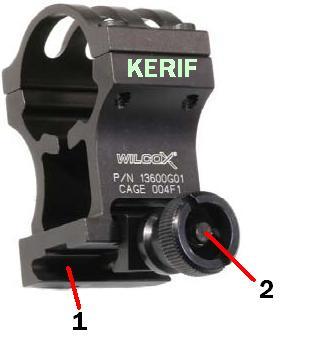 1)
A Rail Grabber secures the mount to a MIL-STD-1913 rail
to ensure proper alignment of the Aimpoint Comp-M Sight.
2)
A Thumb Nut assists in easy mount and dismount of the
Aimpoint Comp-M Mount to the rail. It can be easily secured
with a gloved hand. A coin slot, located in the head of the
Thumb Nut assists the operator with rotation.
Wilcox is an industry leader in the design, manufacture and test of Weapon Optic Mounts. This all metal mount is manufactured of light weight, aerospace grade materials coated with a flat matte black finish to enhance durability and covertness in all combat conditions.
Simple to attach and remains bore sighted to the weapon under heavy gun fire. Extensive use in the field has proven this Mount to be the product of choice, earning it the reputation of
"Combat Proven"
.
Specifications
Weight
3.15 oz (90g)
Material Construction
Light Weight Aerospace Grade Metal
Weapon Mounting Configuration
MIL-STD-1913 Rail

These Mounts are proudly Made in the USA!
<![if !vml]>

<![endif]>
13600G01
Aimpoint Comp-M Mount (Any MIL-STD 1913 "Picatinny" Rail)

Home | Contact Us | About KERIF | Export Regulations | How to Order
<![if !vml]>

<![endif]> <![if !vml]>

<![endif]>
(702) 324-6463 / (702) 869-8451 FAX
sales@nitevis.com or kerifnightvision@earthlink.net