| | |
| --- | --- |
| | Bed Vaults |
| | |
| | |
| | |
| | PVS-7 Parts |
| | |
| | Scopecoat Covers |
| | |
| | |
| | |
| | |
| | |
| --- | --- |
| | |
| | Doctor Optic MRD |
| | |
| | |
| | |
| | |
| | |
| --- | --- |
| | GloWands |
| | |
| | |
| | |
| | |
| | |
| | |
| | |
| --- | --- |
| | |
| | AN/PVS-31 BNVD |
| | |
| | |
| | |
| | |
| | BTS Thermal |
| | GPNVG |
| | G15 |
| | |
| | |
| | |
| | |
| --- | --- |
| | |
| | IFF-67 Blood Markers |
| | |
| | |
| | |
| | |
| | |
| --- | --- |
| | |
| | |
| | |
| | AN/PVS-15 |
| | ATN G15 |
| | ATN NVG7 |
| | ATN PVS7 |
| | ATN PS15 |
| | BNVD |
| | ENVG Fusion |
| | SENVG Fusion |
| | SENTINEL BNVS |
| | |
| --- | --- |
| | |
| | |
| | |
| | |
| | DBAL-A2 |
| | |
| | |
| | |
| | |
| | |
| | |
| | |
| | |
| | |
| | |
| | |
| | |
| --- | --- |
| | |
| | AN/PVS-18 M983 |
| | GT14 |
| | |
| | |
| | |
| | LRS Surveillance |
| | |
| | |
| | |
| | |
| --- | --- |
| | BTS Thermal |
| | |
| | |
| | |
| | |
| | |
| | |
| | |
| | |
| --- | --- |
| | Bed Vaults™ |
| | |
| | |
| | Extreme Series |
| | Mobile Command |
| | |
| | TrunkVaults™ |
Helpful Info
Export Regulations
FAQ's
How to Order
Terms & Conditions

L4 NVG Head Mount
Skull Lock NVG Head Mount L4 Series w/Integrated Shroud works with all L4 series NVG Mounts to include the Issued Army Arm
Part #: 26000G02
Gov't & Civilian Discounts Available, Call or email
Law Enforcement/Military *Please call or email for discounts*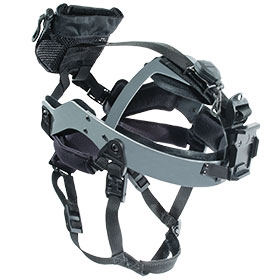 Skull Lock Head Mount
The Skull Lock Head Mount features Team Wendy's Cam Fit Suspension System along with the Wilcox Breakaway feature. This allows the mount to break away from the head mount under a stressed conditions or the operator can choose to lock the mount into place when the breakaway mode is not required. The Skull Lock Head Mount fully integrates with the complete L4 line of NVG Mounts. The system offers seven points of quick adjustment points for proper fit and comfort. The NVG mount features a tilt adjustment, for/aft and vertical adjustments that ensures proper eye alignment of the NVG.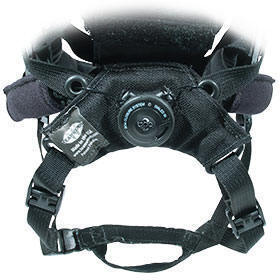 The system also features a weight storage basket on the back that will hold a shot bag to provide NVG weight distribution that provides outstanding control support and comfort even while on the move. A button allows the operator to flip the NVG up out of the way into a low profile stowed position and a magnetic switch on the mount facilitates in the NVG auto off function. To prevent the loss of NVG, the Wilcox' NVG lanyard is included with the system.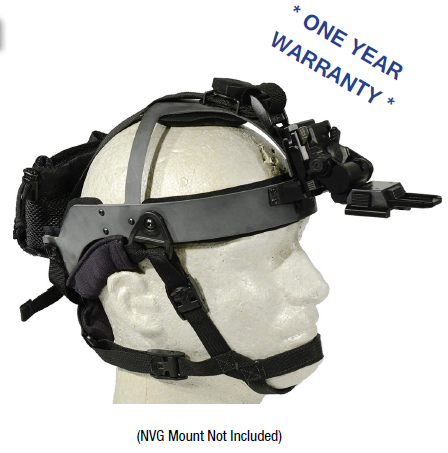 The Wilcox NVG Head Mounting System With Team Wendy Cam Fit Retention System allows an operator to quickly mount or dismount an AN/PVS7A, 7C, 15, or 18 NVG for use in night operations. The NVG Head Mounting System is the operators choice when wearing a helmet is not an option, and also works with 7B and 7D, AN/PVS-14,15,18,21 and BNVD, ANVIS 6 and 9 with several different models of Norotos and Cadex NVG Mounts.

* ONE YEAR WARRANTY *
* Ergonomically correct Design Provides
* Outstanding Control, Support, and Comfort.
* High Degree of Goggle Stability While on the Move
* Excellent Option When not Wearing a Helmet
* Can be Used with the Wilcox NVG Lanyard (see TDS078) for Secure Attachment to an Array of NVG Devices Preventing Loss of the NVG and Breakaway of the Wilcox Universal NVG Mount from the Helmet Mount Base
* Each Mechanical Adjustment is Durable and
* Ergonomically Positioned for Easy One-Handed Operation While Handling a Weapon

* Maintains a Very Low Profile Stance on the Helmet
* Flat Matte Finish for Covertness in Combat Conditions
* Thousands of Mounts of this Type Fielded to Date
* Combat Proven by the US Special Operations Community and Domestic Law Enforcement Personnel
* Design Approach Cuts Down on Logistics and Overall System Cost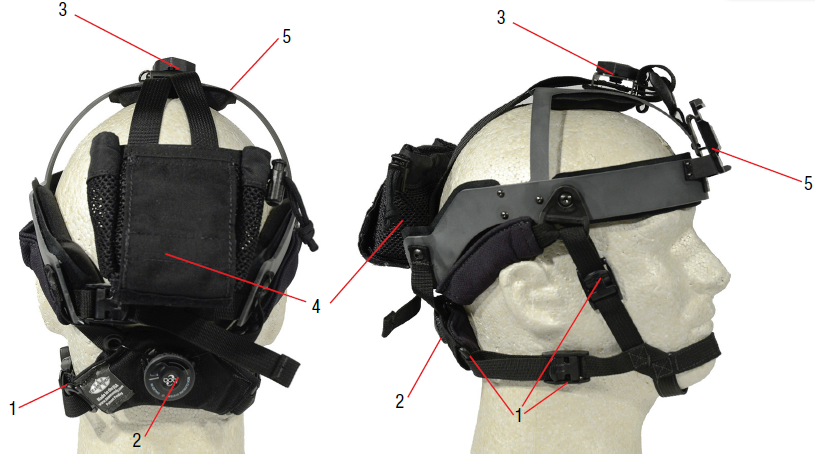 1. Several adjustment points provide for the operators fit and comfort.
2. Rear adjustment knob tightens the head mount for a quick modification to the fit.
3. Wilcoxs NVG Lanyard prevents loss of NVGs.
4. A weight storage basket stores a shot bag to provide NVG weight distribution.
5. L4 series NVG interface plate fits Wilcox L4 series NVG mounts, Norotos AKA-2 and Cadex 643-93C NVG mounts.

| | |
| --- | --- |
| Weight | 10.8 oz |
| Material | Light Weight, Aerospace Grade Metal Mount With Nylon Webbing & High Strength Polymer |
| Accommodates NVG Suite | AN/PVS-7A, 7C, 15 or 18 |

Home | Contact Us | About KERIF | Export Regulations | How to Order



(702) 324-6463 / (702) 869-8451 FAX
sales@nitevis.com or sales@kerifnv.com