| | |
| --- | --- |
| | Bed Vaults |
| | |
| | |
| | |
| | PVS-7 Parts |
| | |
| | Scopecoat Covers |
| | |
| | |
| | |
| | |
| | |
| --- | --- |
| | |
| | Doctor Optic MRD |
| | |
| | |
| | |
| | |
| | |
| --- | --- |
| | GloWands |
| | |
| | |
| | |
| | |
| | |
| | |
| | |
| --- | --- |
| | |
| | AN/PVS-31 BNVD |
| | |
| | |
| | |
| | |
| | BTS Thermal |
| | GPNVG |
| | G15 |
| | |
| | |
| | |
| | |
| --- | --- |
| | |
| | IFF-67 Blood Markers |
| | |
| | |
| | |
| | |
| | |
| --- | --- |
| | |
| | |
| | |
| | AN/PVS-15 |
| | ATN G15 |
| | ATN NVG7 |
| | ATN PVS7 |
| | ATN PS15 |
| | BNVD |
| | ENVG Fusion |
| | SENVG Fusion |
| | SENTINEL BNVS |
| | |
| --- | --- |
| | |
| | AN/PVS-18 M983 |
| | GT14 |
| | |
| | ENVIS M703 |
| | |
| | LRS Surveillance |
| | |
| | |
| | |
| | |
| --- | --- |
| | BTS Thermal |
| | |
| | |
| | |
| | |
| | |
| | |
| | |
| | |
| --- | --- |
| | Bed Vaults™ |
| | |
| | |
| | Extreme Series |
| | Mobile Command |
| | |
| | TrunkVaults™ |
FAQ's
How to Order
Terms & Conditions
MSRP: = DISCONTINUED, Limited Stock may be available email
P/N: TIWSMT321C ThOR-320-1X 30Hz 320x240 19mm

We are required to adhere to a Minimum Advertised Price (MAP) by the manufacturer, and anyone not listing this minimum price is breaking the rules, so if you find a better price advertised anywhere, please let us know and we will try to meet or beat that price!

ThOR Kits Include:
ATN Help Card
ATN Thor-HD
Battery Lifetime Information and Power Kit Card
FB Group and ATN Forum Card
Firmware Update and Review Card
Black Nylon Case
Thor HD Manual
Thor HD Quick Start Guide Card
<![if !vml]>

<![endif]><![if !vml]>
<![endif]>
Private labeling options available for large quantity orders
We accept all forms of Gov't payment, including WAWF, CAGE: 36BD2, Dealers Welcome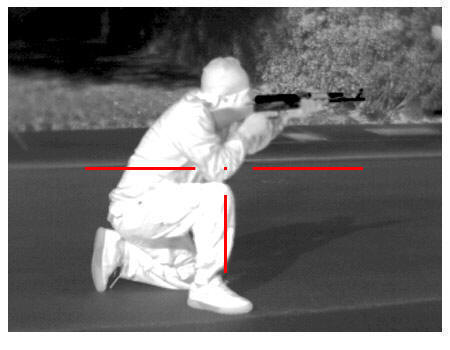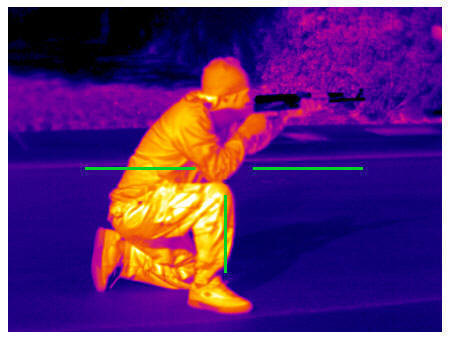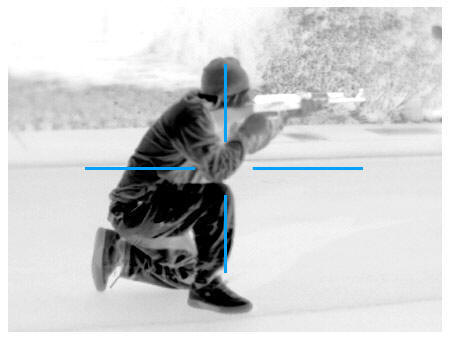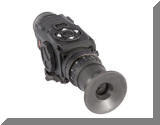 Thermal Imaging Has Gone Digital! ATN is proud to introduce the newest line of ThOR Thermal Weapon Scopes. The most advanced night vision technology available is brought to you by the premier company dedicated to providing night vision systems at affordable prices. The new ThOR line is rich with features and options making it the best value of any comparable system on the market.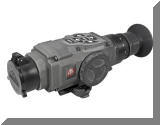 This model is lightweight and small enough to fit in the palm of your hand, yet it's rugged and durable. The entire system is built in the USA, utilizing Mil-Spec Lenses that make the ThOR battle worthy for most any mission, operation, or outdoor activity. Each system features a digital menu that gives you a variety of options and adjustments allowing you to customize your system.

You can select a number of reticle options as well as choose a reticle color best suited for your specific application. No more black reticles on a black and white screen – ThOR features a color OLED display giving you a sharp color reticle every time. Or switch to full color mode and overlay it with either a black, red, blue, white or black reticle depending on the conditions and the environment.

Ever have problems with a scope not being able to hold zero? The ThOR has no screws or springs that can create targeting errors. With all digital controls, the ThOR will NEVER allow your reticle to move off base. The new ThOR Thermal Weapon Scope provides provide amazing image quality through total darkness, fog, or smoke. Darkness, camouflage or bright lights will not affect the sensitivity of these units.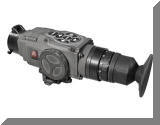 All units have feature E-Zoom to expand your optical magnification. They're Ideal for nighttime hunting, force protection, border patrol, police SWAT and special operations. And they feature a video-out connection and cable which will let you capture your nighttime operation on video. These units are priced like no other thermal devices in their class – as much as half of what you would expect to pay! No other product is comparable in value or price.

The ATN ThOR functions equally well as a weapon scope or a handheld viewer. Once you experience Digital Thermal you may not want to use anything else again!
Features:
* 500 Meter (547 Yards) Human Detection Range
* 1,100 Meter (1,203 Yards) Vehicle Detection Range
* Easily Mounts to any Picatinny Rail with a Quick-Release Mount
* Compact & Lightweight Design
* Ergonomic & Rugged Design with MILSPEC Optics
* Fast Digital Imaging (30 Hertz)
* Weighs only 24.16 oz/ 1.51 lbs/685 grams
* 24° x 18° Field Of View (FOV) 28mm Eye Relief
* Menu Functions Include:
- Reticle Type Selection (Automatically Adjusts Position when using E-Zoom)
- Reticle Color Selection (Red, Green, Blue, White or Black)
- Polarity Control Selection (White Hot, Black Hot or Multiple Color Modes)
- Windage & Elevation Adjustments
* Digital Brightness Control
* Uses Uncooled Vandium Oxide (VOx) Microbolometer Technology
* 1X Optical Magnification with 2X & 4X E-Zoom
* Up to 8 Hours of Operation using (3) CR123A Lithium Batteries
* Diopter Range of +2 to -6 Diopters
* 800 x 600 OLED Color Display, Digital NTSC/PAL Video Output w/RCA Cable



These Sights are proudly manufactured in the USA with a 1 Year Warranty
Part#

30Hz 240x180 Thermal Weaponsights

MSRP

NSN/UPC

List

HD video recording, Wi-Fi, GPS, smooth zoom and Smartphone control via iOS or Android app

NEW Smart HD 384 x 288 17µ MODELS

ThOR HD, 1.25X-5X, 19mm, 30Hz, 17µ

65817523247 6
$1,999.00

ThOR HD, 2X - 8X, 25mm, 30Hz, 17µ

65817523248 3
$2,699.00

ThOR HD, 4.5X - 18X, 50mm, 30Hz, 17µ

65817523249 0
$3,499.00

ThOR HD, 9X - 36X, 100mm, 30Hz, 17µ

65817523250 6
$4,499.00

Part#

60Hz 336x256 Thermal Weaponsights

MSRP

NSN/UPC

List

NEW Smart HD 640 x 480 17µ MODELS

ThOR HD, 1X - 10X, 19mm

65817523251 3
$3,999.00

ThOR HD, 1.5 - 15X, 25mm

65817511241 9
$4,499.00

ThOR HD, 2.5X - 25X, 50mm

65817523252 0
$4,999.00

ThOR HD, 5X - 50X, 100mm

65817523253 7
$5,999.00

Part#

30Hz 240x180 Thermal Weaponsights

MSRP

NSN/UPC

List

TIWSMT241D

ThOR240-1X-4X 240x180, 19mm, 30Hz, 25µ

Discontinued

658175905653

Part#

30Hz 320x240 Thermal Weaponsights

MSRP

NSN/UPC

List

ThOR320-1X 320x240, 19mm, 30Hz, 25µ

Discontinued

658175905417

ThOR320-2X 320x240, 30mm, 30Hz, 25µ

Discontinued

658175905424

ThOR320-3X 320x240, 50mm, 30Hz, 25µ

Discontinued

658175905431

ThOR320-6X 320x240, 100mm, 30Hz, 25µ

Discontinued

658175905561

336 x 256 17µ MODELS

ThOR336, 1.5X-6X, 19mm, 30Hz, 17µ

Discontinued

658175905615

TIWSMT333B

ThOR336, 3X - 12X, 30mm, 30Hz, 17µ

Discontinued

658175905639

ThOR320, 4.5X - 18X, 50mm, 30Hz, 17µ

Discontinued

658175905448

ThOR320, 9X - 36X, 100mm, 30Hz, 17µ

Discontinued

658175905578

Part#

60Hz 336x256 Thermal Weaponsights

MSRP

NSN/UPC

List

ThOR320, 1.25X - 5X, 19mm, 60Hz, 25µ

Discontinued

658175905455

ThOR320, 2X 320x240, 30mm, 60Hz, 25µ

Discontinued

658175905462

ThOR320, 3.5X-14X, 50mm, 60Hz, 25µ

Discontinued

658175905479

ThOR320, 6X 320x240, 100mm, 60Hz, 25µ

Discontinued

658175905585

336 x 256 17µ MODELS

TIWSMT331A

ThOR336, 1.5X - 6X, 19mm, 60Hz, 17µ

Discontinued

658175905622

TIWSMT333A

ThOR336, 3X - 12X,, 30mm, 60Hz, 17µ

Discontinued

658175905646

ThOR320, 4.5X - 18X, 50mm, 60Hz, 17µ

Discontinued

658175905486

ThOR336, 4.5X - 18X,, 50mm, 60Hz, 17µ

Discontinued

658175905646

ThOR320, 9X - 36X, 100mm, 60Hz, 17µ

Discontinued

658175905592

ThOR336, 9X - 36X, 100mm, 60Hz, 17µ

Discontinued

658175905592

Part#

30Hz 640x512 Thermal Weaponsights

MSRP

NSN/UPC

List

TIWSMT641B

ThOR640, 1.1X - 9X, 19mm, 30Hz, 17µ

Discontinued

658175905509

ThOR640, 1.5X - 12X, 30mm, 30Hz, 17µ

Discontinued

658175905493

ThOR640, 2.5X - 20X, 50mm, 30Hz, 17µ

Discontinued

658175905516

ThOR640, 5X - 40X, 100mm, 30Hz, 17µ

Discontinued

658175905608

Part#

ThOR Accessories

MSRP

NSN/UPC

List

ACTITHRMVCBL

Video Cable, ThOR-Mini

$99.00

658175905554

Call
EXPORT LICENSE REQUIRED.
Export of the commodities herein described are strictly prohibited without a valid export license issued by the US Dept of State, Office of Defense Trade Controls, prescribed in the International Traffic in Arms Regulation ITAR, Title 22, Code of Federal Regulations, Parts 120-130

Night Vision Sights are restricted to domestic U.S. sales to U.S. Citizens only
Please be prepared to provide an End User Agreement acknowledging ITAR Rules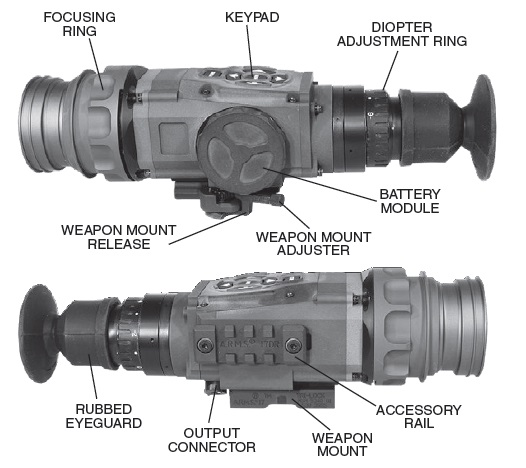 DETECTION & RECOGNITION RANGES
Human Detection
500 meters/1,640 feet/546.8 yards
Human Recognition
225 meters/738.2 feet/246.1 yards
Human Identification
135 meters/442.9 feet/147.6 yards
Vehicle Detection
1,100 meters/3,609 feet/1,203 yards
Vehicle Recognition
495 meters/1,624 feet/541.3 yards
Vehicle Identification
300 meters/984.3 feet/328.1 yards

The Johnson Criteria assumes that the critical dimension for a human being is 6' (1.83 meters).
To get Detection, Recognition, and Identification (DRI), you need 1.5 pixels, 6 pixels and 12 pixels respectively across 0.75 meters in the object pane. Therefore:




Vehicle Detection Vehicle Recognition Vehicle Identification
2.8 pixels by 1 pixel 13 pixels by 5 pixels 26 pixels by 10 pixels

Human Detection Human Recognition Human Identification
3.6 pixels by 1 pixel 13 pixels by 5 pixels 28.8 pixels by 8 pixels

SPECIFICATIONS
Sensor (Microbolometer)
320 x 240
Type / Material
Uncooled Vanadium Oxide (VOx)
Image Size
800 x 600 Output Resolution
Magnification
1X
Optical Magnification
2X and 4X E-Zoom
Eye relief
28mm/1.102 inches
Thermal Sensitivity
<50mK
Spectral Response
7 - 14 µm
Lens
19mm/.748 inches
Exit Pupil Diameter
14mm/.5512 inches
Field of View
24° x 18°
ELECTRONIC DATA
Frame Rate (Refresh)
30 Hertz
Start Up Time
< 3 Seconds
Video Output
Digital NTSC/PAL
Display
Color OLED Matrix, SVGA < 800x600 Color Background + Color Reticles
Output Computer Set Up
Yes
Battery Type
(3) Three CR123A Lithium
Battery Life, typical
8 Hours
Low Battery Indicator
Yes
MECHANICAL DATA
Material Housing
Aircraft Aluminum 6061 T6 w/Class III Hard Anodized Coating
Objective Lens
Janus Full MILSPEC Diamond Like Carbon (DLC) Coating
Diopter Adjustment
-6 to +2 Diopters
Mounting
MIL-STD 1913 Picatinny Rail, Quick-Disconnect
DIMENSIONS
Length

Width

Height

171mm (6.732")

69 mm (2.717")

73 mm (2.874")

Weight
685 grams/24.16 oz/1.51 lbs
ENVIRONMENTAL DATA
Temperature Range
-45şC to +71şC (-49şF to +159.8şF)
Water Resistance
Waterproof / Dustproof
Humidity
95% at 20°C (68°F) to 50°C (122°F), cycling
Optional Accessories

ACTITHRMVCB Video Cable, THOR-Mini, RCA
$89.00 / Gov't: $Call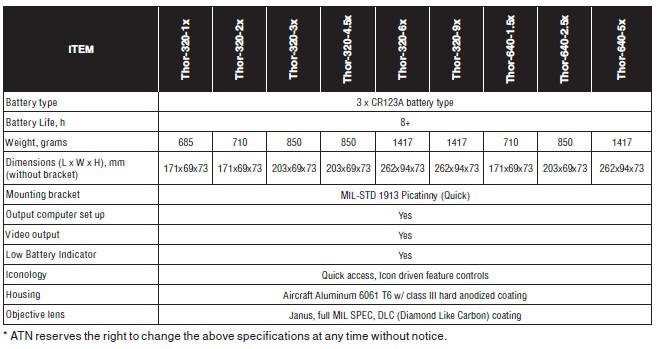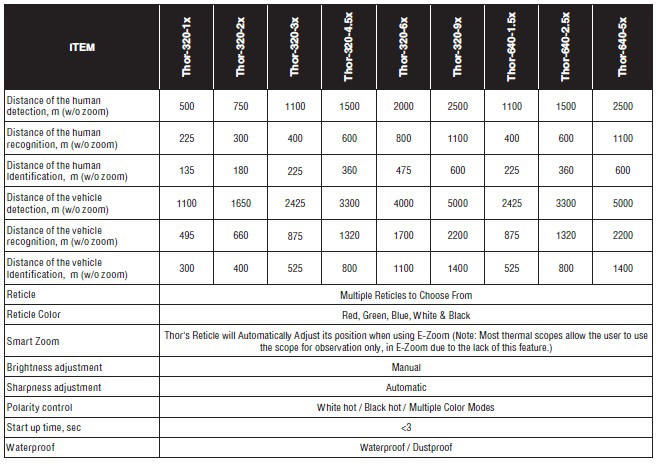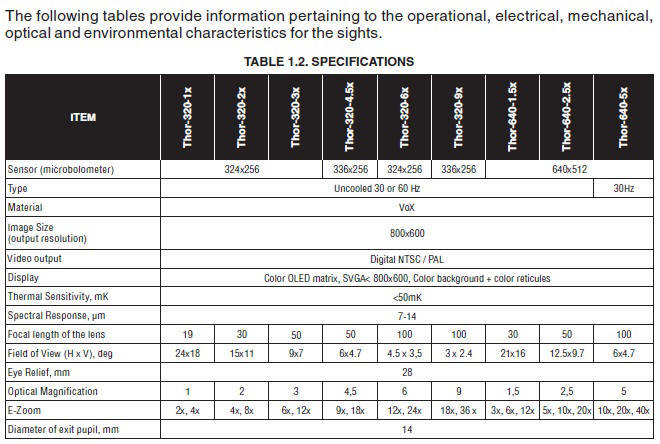 Home | Contact Us | About KERIF | Export Regulations | How to Order
<![if !vml]>

<![endif]> <![if !vml]>

<![endif]>
(702) 324-6463 / (702) 869-8451 FAX
sales@nitevis.com or kerifnightvision@earthlink.net