Installation of Batteries
The Thor-HD will operate on four Lithium AA-type batteries.
NOTE:
We highly recommend using the ATN Power Weapon Kit. With it you do need any batteries and will have an average of 16hrs of running time. You will also be able to mount your scope on higher caliber systems since strong recoil will no longer be able to dislodge internal batteries and thereby potentially power down the scope.
Use only 1.5 V batteries.

Install batteries as follows:
Remove the battery cap by unscrewing it counter clockwise
Insert batteries as shown
Return the battery cap into the housing (screw clockwise until finger tight)
ATN Power Weapon Kit: P/N: ACMUBAT160 UPC: 65817511227 3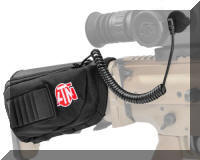 Includes:
20,000 mAh Battery Pack
USB to Micro USB w/ L Shape Connector
Water Resistant Rubber Seal
Adjustable Buttstock Pouch
KERIF Price: $99.00
The ATN Extended Power Kit gives you plenty of juice whenever and wherever you need it.
Up to 22 hrs of continuous use. Easy to recharge and can power other devices.
ATN X-Trac:
P/N: ACMURCNTRL1 UPC: 65817511451 2
Tactical Remote Access Control System
KERIF Price: $79.00
Bringing you the Future Today! In our digital world why settle for anything less?

Never get stuck in a critical situation!
Connect via Bluetooth to your ATN Smart Device and control all the features and functions without touching the scope.
Using your Ballistic Calculator, Smart Range Finder, Environmental Adjustments and other cool features on your Smart HD Scopes just got easier!