| | |
| --- | --- |
| | Bed Vaults |
| | |
| | |
| | |
| | PVS-7 Parts |
| | |
| | Scopecoat Covers |
| | |
| | |
| | |
| | |
| | |
| --- | --- |
| | |
| | Doctor Optic MRD |
| | |
| | |
| | |
| | |
| | |
| --- | --- |
| | GloWands |
| | |
| | |
| | |
| | |
| | |
| | |
| | |
| --- | --- |
| | |
| | AN/PVS-31 BNVD |
| | |
| | |
| | |
| | |
| | BTS Thermal |
| | GPNVG |
| | G15 |
| | |
| | |
| | |
| | |
| --- | --- |
| | |
| | IFF-67 Blood Markers |
| | |
| | |
| | |
| | |
| | |
| --- | --- |
| | |
| | |
| | |
| | AN/PVS-15 |
| | ATN G15 |
| | ATN NVG7 |
| | ATN PVS7 |
| | ATN PS15 |
| | BNVD |
| | ENVG Fusion |
| | SENVG Fusion |
| | SENTINEL BNVS |
| | |
| --- | --- |
| | |
| | |
| | |
| | |
| | DBAL-A2 |
| | |
| | |
| | |
| | |
| | |
| | |
| | |
| | |
| | |
| | |
| | |
| | |
| --- | --- |
| | |
| | AN/PVS-18 M983 |
| | GT14 |
| | |
| | |
| | |
| | LRS Surveillance |
| | |
| | |
| | |
| | |
| --- | --- |
| | BTS Thermal |
| | |
| | |
| | |
| | |
| | |
| | |
| | |
| | |
| --- | --- |
| | Bed Vaults™ |
| | |
| | |
| | Extreme Series |
| | Mobile Command |
| | |
| | TrunkVaults™ |
Helpful Info
Export Regulations
FAQ's
How to Order
Terms & Conditions

KERIF Price: See Chart Below
Restricted to Gov't orders only
NSN: 5855-01-587-4822

Fixed Flash Rate

Common 9V Battery operation

3 Selectable Flash Patterns

3rd Channel is User Programmable

Covert Marker for use with Night Vision

240˚ x 360˚coverage

Available in Red, Green, or Infrared

Weighs only 28 grams (1oz)
The Pegasus™2 (NSN: 5855-01-587-4822) is a programmable infrared signaling beacon designed for use during low light operations. Engineered as an enhancement of the Phoenix series of infrared beacons, the Pegasus series incorporates several encoding options within each Pegasus beacon.
The Pegasus™2 has three user-selectable six second flash patterns; the first code pattern is a fixed flash rate code identical to the Phoenix Jr. (NSN: 5855-01-438-4588), the second code pattern is a International Morse Code signal (S - O - S) and the third is installed as needed by the user in the field.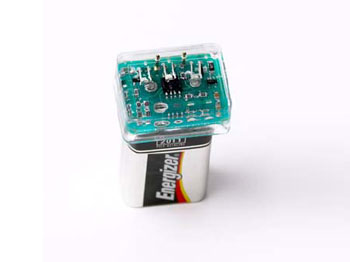 The operator programs a user defined flash pattern via two programming pins. Miniature indicator lights within the device will flash the pattern as it is being recorded by the user to confirm the code being stored. The operator can easily switch between each of the encoded flash pattern via the programming pins.
All codes are stored in a nonvolatile memory allowing the battery to be removed from the beacon without erasing any of the entered codes. During operation, the user can reactivate the miniature indicator lights at anytime allowing the operator to visually confirm the broadcast code in situations where their own night vision equipment has become lost or damaged.
The Pegasus™2 P/N: 902215IR is an extremely rugged and low-cost marker beacon. It is used in conjunction with Night Vision Goggles (NVG's) and other Night Vision Devices (NVD's), at night, as a covert position marker. Like the Phoenix Jr., the Pegasus 2 was designed as a combat identification marker to minimize fratricide (the inadvertent killing of friendly forces, by friendly forces), and has been widely fielded by American and coalition forces for combat identification.
The beacon has many uses in combat and other covert operations for marking personnel, vehicles, safe pathways, or locations. It incorporates a flash rate that was specified to prevent confusion with small arms-fire. Use the Pegasus 2 to identify friendly force positions, demarcation lines or perimeters.

SPECIFICATIONS
Weight: 1 Ounce | 28 Grams
Size: 1.24" x 0.9" x 0.574" | 31mm x 22.5mm x 14.6mm
Flash Repeat Cycle: 1.3 Seconds (Fixed), SOS, and User Defined
Flash Duration: 20 Milliseconds (Fixed), Used Defined Program
Code Memories: 3 - Phoenix Jr. (902111), International Morse Code Signal S-O-S, and User Defined
Power Source: Common 9-Volt or (VAPS) Vehicle Auxiliary Power Supply (902611)
Configuration: 3 Light Emitting Diodes (LED), 880nm
Coverage: 240 degrees x 360 degrees

Operating Depth: The Poseidon - Phoenix / Pegasus Mounting Clip (902801) provides a water tight casing for the beacon and battery assembly. If immersed without the Poseidon case, the unit will continue to operate until the contacts fail due to water and electrolytic corrosion. Given these conditions the depth limitation is solely determined by the battery's ability to withstand depth.

Light Output Frequency and Ordering Information:
902215IR: Infrared - 880 nm
902215R: Visible Red - 640 nm (For Unit Training or Visible Applications)
902215G: Visible NV Green - 565nm (For Unit Training or Visible Applications)
Alternate frequencies available on request
OPTIONS
9-Volt 9-Volt Battery
902611 Vehicle Auxiliary Power Supply
902801 Poseidon Mounting Clip for Phoenix/Pegasus Series beacons
The Pegasus/Phoenix Jr. beacons are the world standard for covert signaling and identification of Military, Law Enforcement, SWAT and Homeland Security Agencies.


These Beacons are proudly manufactured in the USA Cejay Engineering
EXPORT LICENSE REQUIRED.


Infrared Beacons and all Infrared products are ITAR Controlled and cannot be exported without written authorization from the US State Department
***** ALL PRICES SUBJECT TO CHANGE WITHOUT NOTICE *****
Phoenix/Pegasus Beacons & Accessories, Battery (Not Included)

LE/Gov't

902111IR
Phoenix Jr. (Firefly) IR-14 (880nm Infrared), 5855-01-438-4588
Click To Order
902111NVG
Phoenix Jr. (530nm Green) Training, 5855-01-396-8732
Click To Order
902111R
Phoenix Jr. (640nm Red) - Training, 5855-01-396-8734
Click To Order
902124IR
Phoenix Jr.123 - CR123 Battery Operation (880nm Infrared) 5854-01-618-0930
Click To Order
902124NVG
Phoenix Jr.123 - CR123 Battery Operation (530nm Green) Training
Click To Order
902124R
Phoenix Jr.123 - CR123 Battery Operation (640nm Red) - Training
Click To Order
902121IR
Pegasus™10 Dimmable Phoenix Jr. (880nm Infrared)
Call or email
902121NVG
Pegasus™10 Dimmable Phoenix Jr. (530nm Green) Training
Call or email
902121R
Pegasus™10 Dimmable Phoenix Jr. (640nm Red) Training
Call or email
902123IR
Pegasus™12 3-Channel (Phoenix Jr., Constant-On, Standby) (880nm Infrared)
Call or email
902123NVG
Pegasus™12 3-Channel (Phoenix Jr., Constant-On, Standby) (530nm Green)
Call or email
902123R
Pegasus™12 3-Channel (Phoenix Jr., Constant-On, Standby) (640nm Red)
Call or email
902212IR
Phoenix 1.5 6 sec Encodable (880nm Infrared)
Click To Order
902212NVG
Phoenix 1.5 6 sec Encodable (530nm Green) Training
Click To Order
902212R
Phoenix 1.5 6 sec Encodable (640nm Red) Training
Click To Order
902215IR
Pegasus™2 3-Channel Encodable (880nm Infrared) 5855-01-587-4822
Call or email
902215NVG
Pegasus™2 3-Channel Encodable (530nm Green) Training*
Call or email
902215R
Pegasus™2 3-Channel Encodable (640nm Red) Training*
Call or email
*(25 Piece - Minimum Order Quantity)
902218IR
Pegasus™2AA 3-Channel Encodable (880nm Infrared)
Call or email
902218NVG
Pegasus™2AA 3-Channel Encodable (530nm Green) Training*
Call or email
902218R
Pegasus™2AA 3-Channel Encodable (640nm Red) Training*
Call or email
*(25 Piece - Minimum Order Quantity)
902311IR
Phoenix 2.5 Encodable Beacon (880nm Infrared) 5855-01-452-9877
Click To Order
902311NVG
Phoenix 2.5 Encodable (530nm Green) Training
Click To Order
902311R
Phoenix 2.5 Encodable (640nm Red) Training
Click To Order
902411
Phoenix 2.5 Program Controller/Encoder MK1 (CERE) 5855-01-452-0079
Click To Order
902413
Pegasus 7 Synchro (880nm Infrared) 2 Ch Programmable 5855-01-540-1898
Call or email
902511
Phoenix Jr. Intruder Trip Wire IR-14IB (880nm Infrared)
Click To Order
902511NVG
Phoenix Jr. Intruder (530nm Green) Training*
Click To Order
902511R
Phoenix Jr. Intruder (640nm Red) Training*
Click To Order
902611
Vehicle Auxiliary Power Supply (VAPS/VPAK) 6150-01-547-0581
Click To Order
902801
Poseidon-Phoenix Mounting Clip (Black, OD, Tan)
Click To Order
903400
Hero™ Jr Beacon
Call or email
903410
Hero™ Sr Beacon
Call or email
902900
Neptune™ (NSN: 6230-01-618-0393)

Blue

,

White

and

Infrared

(BIRW)
Call or email
902901
Neptune™ (NSN: 6230-01-643-3127)

Red

,

White

and

Infrared

(RIRW)
Call or email
Velux1 IR 950 nm Programmable Beacon
Call or email
Velux1 IR 1050 nm Programmable Beacon
Call or email
Velux1 IR 1200 nm Programmable Beacon
Call or email
Velux1 IR 1300 nm Programmable Beacon
Call or email
Velux1 IR 1450 nm Programmable Beacon
Call or email
Velux1 IR 1550 nm Programmable Beacon
Call or email
Velux1 Red Training 640 nm Programmable Beacon
Call or email
Velux2 IR 950 nm Programmable Beacon
Call or email
Velux2 IR 1050 nm Programmable Beacon
Call or email
Velux2 IR 1200 nm Programmable Beacon
Call or email
Velux2 IR 1300 nm Programmable Beacon
Call or email
Velux2 IR 1450 nm Programmable Beacon
Call or email
Velux2 IR 1550 nm Programmable Beacon
Call or email
Velux2 Red Training 640 nm Programmable Beacon
Call or email
Velux3 IR 950 nm Programmable Beacon
Call or email
Velux3 IR 1050 nm Programmable Beacon
Call or email
Velux3 IR 1200 nm Programmable Beacon
Call or email
Velux3 IR 1300 nm Programmable Beacon
Call or email
Velux3 IR 1450 nm Programmable Beacon
Call or email
Velux3 IR 1550 nm Programmable Beacon
Call or email
902560
Velux4 1050 nm Programmable Beacon
Call or email
902561
Velux4 1550 nm Programmable Beacon
Call or email
902570
Velux5 1050 nm Programmable Beacon
Call or email
902571
Velux5 1550 nm Programmable Beacon
Call or email

Home | Contact Us | About KERIF | Export Regulations | How to Order



(702) 324-6463 / (702) 869-8451 FAX
sales@nitevis.com or kerifnightvision@earthlink.net