* Compact Rugged Construction & Lightweight Design Weighs only 2.7 lbs/1.22 kg
X-Sight HD ● GEOTAG
Geo-tagging has never been easier and more seamless. Record and track everywhere you've been and see it on an interactive map. Whether you are hunting or touring the Grand Canyon - now you can record exactly where your adventures took
When out in the field, Day or Night, you need a great scouting tool to complement your ATN X-Sight II HD. There is nothing better than the ATN BinoX-HD; it will complement your X-Sight II HD capabilities. The BinoX-HD gives you both, Day and Night performance that you need and eliminates the use of your rifle to scan the field. Improving your performance and safety as a hunter.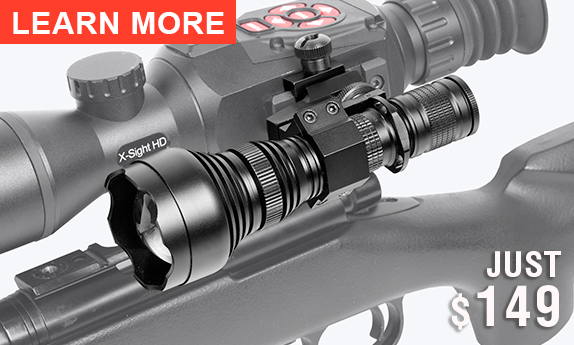 Also, don't forget these other awesome ATN accessories for your ATN X-Sight II HD. To double your Night time range look at the ATN IR850 Pro Long Range Illuminator, it will light up the night for you and give you the extra performance that you want to squeeze out of your ATN X-Sight II HD.
If you want to stay in the field longer and not have too switch out your batteries, we also suggest looking into the ATN Extended Life Battery Kits, available for both your ATN X-Sight II HD and ATN BinoX-HD. They will give you the run time to be operational longer, giving you peace of mind that you have enough power to last through the Day or Night.

These Thermal Sights are proudly manufactured in the USA with a 2 Year Warranty


Home | Contact Us | About KERIF | Export Regulations | How to Order
<![if !vml]>

<![endif]> <![if !vml]>

<![endif]>
(702) 324-6463 / (702) 869-8451 FAX
sales@nitevis.com or kerifnightvision@earthlink.net
ATN NIGHT VISION PRODUCT WARRANTY
This product is guaranteed to be free from manufacturing defects in material and workmanship under normal use for a period of 1 year from the date of purchase. Products that were purchased as factory refurbished, samples or not from an authorized ATN vendor are not covered by this warranty. In the event a defect that is covered by the foregoing warranty occurs during the applicable period stated above, ATN, at its option, will either repair or replace the product, and such action on the part of ATN shall be the full extent of ATN's liability, and the Customer's sole and exclusive remedy. This warranty does not cover a product (a) used in other than its normal and customary manner; (b) subjected to misuse; (c) subjected to alterations, modifications or repairs by the Customer of by any party other than ATN without prior written consent of ATN; (d) special order or "close-out" merchandise or merchandise sold "as-is" by either ATN or the ATN dealer; or (e) merchandise that has been discontinued by the manufacturer and either parts or replacement units are not available due to reasons beyond the control of ATN. ATN shall not be responsible for any defects or damage that in ATN's opinion is a result from the mishandling, abuse, misuse, improper storage or improper operation, including use in conjunction with equipment which is electrically or mechanically incompatible with or of inferior quality to the product, as well as failure to maintain the environmental conditions specified by the manufacturer. CUSTOMER IS HEREBY NOTIFIED THAT OPERATION OF THE EQUIPMENT DURING DAYLIGHT HOURS OR UNDER ANY EXCESSIVE LIGHT CONDITIONS MAY PERMANENTLY DAMAGE THE INTERNAL COMPONENTS OF THE UNIT AND SAID DAMAGE WILL NOT BE COVERED UNDER THIS WARRANTY. This warranty is extended only to the original purchaser. Any breach of this warranty shall be waived unless the customer notifies ATN at the address noted below within the applicable warranty period. The customer understands and agrees that except for the foregoing warranty, no other warranties written or oral, statutory, expressed or implied, including any implied warranty of merchantability or fitness for a particular purpose, shall apply to the product. All such implied warranties are hereby and expressly disclaimed.
LIMITATION OF LIABILITY
KERIF Night Vision nor ATN will be liable for any claims, actions, suits, proceedings, costs, expenses, damages or liabilities arising out of the use of this product. Operation and use of the product are the sole responsibility of the Customer. ATN's sole undertaking is limited to providing the products and services outlined herein in accordance with the terms and conditions of this Agreement. The provision of products sold and services performed by KERIF Night Vision to the Customer shall not be interpreted, construed or regarded, either expressly or implied, as being for the benefit of or creating any obligation toward any third party of legal entity outside KERIF Night Vision, ATN and the Customer; KERIF Night Vision & ATN's obligations under this Agreement extend solely to the Customer. KERIF Night Vision or ATN's liability hereunder for damages, regardless of the form or action, shall not exceed the fees or other charges paid to KERIF Night Vision by the customer or customer's dealer. KERIF Night Vision or ATN shall not, in any event, be liable for special, indirect, incidental or consequential damages, including, but not limited to, lost income, lost revenue or lost profit, whether such damages were foreseeable or not at the time of purchase, and whether or not such damages arise out of a breach of warranty, a breach of agreement, negligence, strict liability or any other theory of liability.
PRODUCT WARRANTY REGISTRATION
In order to validate the warranty on your product, ATN must receive a completed Product Warranty Registration Card for each unit or each unit must be registered online at ATN Warranty Information. Online is preferred method of registration. Please complete the online form and/or mail registration card provided by KERIF Night Vision immediately to ATN's Service Center: ATN Corporation, 1341 San Mateo Ave., South San Francisco C A 94080. Products qualifying for warranty repair will be either repaired or replaced within 10 business days of receipt of merchandise unless the customer is notified otherwise.
OBTAINING WARRANTY SERVICE
To obtain warranty service on your unit, End-user must notify KERIF Night Vision Service Department by calling (702) 882-1982 or (702) 324-6463 or via e-mail CustomerService@nitevis,com to receive a Return Merchandise Authorization number (RMA).

When returning product for repair, please package the unit properly and send postage paid, with a copy of your sales invoice to ATN's service center, ATN Corporation at the address noted above. All merchandise must be fully insured with the correct postage; KERIF Night Vision nor ATN will be responsible for improper postage or, missing or damaged merchandise during shipment.

When sending product back, please clearly mark the RMA# on the outside of the shipping box. Please include a letter that indicates your RMA#, Name, Return Address, reason for service return, Contact information such as valid telephone numbers and/or e-mail address and proof of purchases that will help us to establish the valid start date of the warranty. Product merchandise returns that do not have an RMA listed may be refused or a significant delay in processing may occur.

Estimated Warranty service time is 10-20 business days. End-user/customer is responsible for postage to ATN for warranty service. ATN will cover return postage/shipping to continental USA end-users/customers after warranty repair only if product is covered by aforementioned warranty. ATN will return product after warranty service by domestic UPS Ground and/or domestic USPS mail. Any other requested, required or international shipping method the postage/shipping fee will be the responsibility of the end-user/customer.