| | |
| --- | --- |
| | Bed Vaults |
| | |
| | |
| | |
| | PVS-7 Parts |
| | |
| | Scopecoat Covers |
| | |
| | |
| | |
| | |
| | |
| --- | --- |
| | |
| | Doctor Optic MRD |
| | |
| | |
| | |
| | |
| | |
| --- | --- |
| | GloWands |
| | |
| | |
| | |
| | |
| | |
| | |
| | |
| --- | --- |
| | |
| | AN/PVS-31 BNVD |
| | |
| | |
| | |
| | |
| | BTS Thermal |
| | GPNVG |
| | G15 |
| | |
| | |
| | |
| | |
| --- | --- |
| | |
| | IFF-67 Blood Markers |
| | |
| | |
| | |
| | |
| | |
| --- | --- |
| | |
| | |
| | |
| | AN/PVS-15 |
| | ATN G15 |
| | ATN NVG7 |
| | ATN PVS7 |
| | ATN PS15 |
| | BNVD |
| | ENVG Fusion |
| | SENVG Fusion |
| | SENTINEL BNVS |
| | |
| --- | --- |
| | |
| | |
| | |
| | |
| | DBAL-A2 |
| | |
| | |
| | |
| | |
| | |
| | |
| | |
| | |
| | |
| | |
| | |
| | |
| --- | --- |
| | |
| | AN/PVS-18 M983 |
| | GT14 |
| | |
| | |
| | |
| | LRS Surveillance |
| | |
| | |
| | |
| | |
| --- | --- |
| | BTS Thermal |
| | |
| | |
| | |
| | |
| | |
| | |
| | |
| | |
| --- | --- |
| | Bed Vaults™ |
| | |
| | |
| | Extreme Series |
| | Mobile Command |
| | |
| | TrunkVaults™ |
Helpful Info
Export Regulations
FAQ's
How to Order
Terms & Conditions
* Thermal Imaging NV Weaponsight
* Stand Alone or Clip-On at half the cost
* Four (4) Color Reticles to choose from
* Can be used Day or Night
* Full MILSPEC Housing
* Twelve (12) Color Palette Modes
TICO Thermal Imager

| | | |
| --- | --- | --- |
| Part # | Description | MSRP |
| TICOTC350A | TICO-336A Thermal Riflescope Clip-On 336x256, 50mm | $4,995.00 |
| TICOTC650B | TICO-640B Thermal Riflescope Clip-On 640x512, 50mm | $6,995.00 |
| | | |
| ACTITHERICBL | USB video capture cable | $ 129.00 |
| ACTITHERRCABL | RCA video cable | $ 129.00 |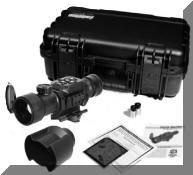 Thermal Imaging Has Gone Digital! ATN is proud to introduce the newest line of TICO Thermal Imaging Clip-On Weapon Scopes. The most advanced night vision technology available is brought to you by the premier company dedicated to providing night vision systems at affordable prices. The new TICO is rich with features and options making it the best value of any comparable system on the market.

Representing the latest advancement in thermal imaging technology, the ATN TICO-Series Thermal Clip-On gives your daytime scope thermal imaging capability in a matter of seconds. The ATN TICO-Series mounts in front of a daytime scope to enable thermal vision in day or nighttime operation. No shift of impact, no need to Re-Zero nor change of eye relief occurs. The ATN TICO-Series uses advanced thermal technology for outstanding resolution and performance. Precision optical alignment is essential for any front sight system to work properly. Therefore every ATN TICO-Series is individually tested and aligned to the highest tolerances to provide perfect alignment.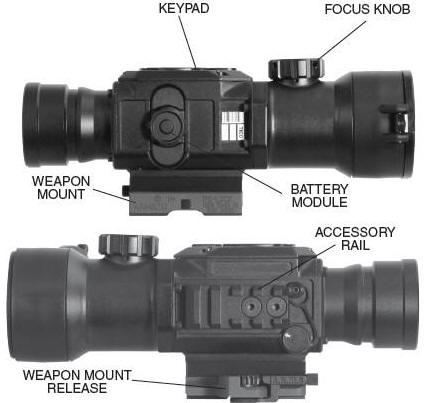 The mechanical adjustments of the TICO sights allow for physical differences between individual operators using the system. The scope functions include the Keypad, Output Connector, Eyepiece Diopter Adjustment Ring, Focusing Ring, Battery Module, Accessory Rail, and Weapon Mount. The controls are identified in the image shown.
OPTICAL FUNCTION
The optical functions include an objective lens, thermal imaging detector, display and eyepiece. Infrared energy is emitted proportionally to the temperature of an object. The warmer the object, the more energy it emits. The infrared energy from the objects is focused by the optics, onto an infrared detector. The information from infrared detector is passed to electronics for image processing. The signal processing circuitry translates the infrared detector data into an image that can be viewed on the built-in OLED display. The image is observed through an eyepiece by operator.
ELECTRICAL FUNCTION
The electronic circuit is powered by replaceable two 3V lithium batteries (CR123A). Power from the batteries is supplied to the components through the Power button.
Features:
• Mounts in front of daytime scope, no re-zeroing required
• Resistance to all severe operating conditions
• Lightweight and Rugged
• Comes with MIL-STD 1913 Quick Release Mount
• High Resolution Digital Thermal Imaging
• Compact, lightweight and durable housing
• High-end OLED display
• Rapid start-up in 3 seconds
• Up to 4 Hours Operation
• Three-Year Warranty
• Aircraft Aluminum constructed body w/Class 3 Hard Anodized Coating
• Digital Tactical Menu with quick view icons
• Polarity: White Hot / Black Hot / Color Palette
• Thermal images viewable in up to 12-tone color pallet
• Ten-step brightness control
• Batteries: (2) 3V lithium (CR123A).
* Easily changes Daytime Scope to Thermal Imaging
* Color Modes
* 1x Magnification
* Icon Based Menu System
* NTSC / PAL Digital Video output
White Hot & Black Hot Polarity is the most common used Thermal Color Modes
The function of polarity switching is accessible only in Black and White models. Polarity button switches the direct display mode into the reverse one, i.e. from hot-white/cold-black into hot-black/cold white mode. If the polarity is white-hot, the image will be with hotter objects displayed as white, and the rest of the image displayed as black, and vice versa: with hotter objects displayed as black, if the polarity is black-hot.
To select polarity go to ISM Main menu and push left arrow button (color mode) quickly to cycle between white hot and black hot polarities. The TICO has 10 additional color pallets to choose from in addition to the white hot and black hot polarity.
Fusion, Rainbow, Globow, Ironbow1, Ironbow2, Sepia, Color1, Color2, Ice Fire, Rain
To select a different colors mode go to ISM Main menu left arrow button (color mode). And hold down for 1-2 seconds to cycle through the 10 additional pallets.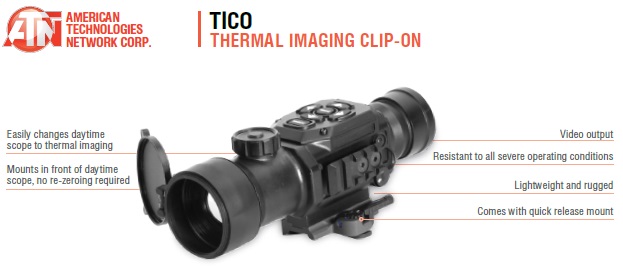 TICOTC350A TICO-336A
TICOTC650B TICO-640B
Sensor (Microbolometer)
336x256 pixels
640x512 pixels
Type

Uncooled

Detector Material

Vanadium oxide (VOx)

Image Size

800 x 600 pixels (Output Resolution)

Refresh Frame Rate

30 Hz (30 Times/Second)

Video output

Yes Digital NTSC (US) / PAL (European)

Color OLED Display

Matrix, SVGA< 800x600

Thermal Sensitivity

<50 mK

Spectral Response

7-14 μm

Lens System

50 mm Full MILSPEC w/DLC Coating

Housing Material

Aircraft Aluminum 6061 T6 w/Hard Anodized Coating

Field of View (H x V)

9° x 7°

Eye Relief
Optical Magnification

1X

E-Zoom

No

Diopter Adjustment
Human Detection Range
1100 m
1100 m
Human Recognition

Range

400 m
400 m
Human Identification

Range

225 m
225 m
Vehicle Detection

Range

2425 m
2425 m
Vehicle Recognition

Range

875 m
875 m
Vehicle Identification

Range

525 m
525 m
Reticle Color

Red / White / Black / Green

Brightness adjustment

Manual

Sharpness adjustment

Automatic

Start up time

<3 sec

Polarity control

White Hot / Black Hot / + 10 Multiple Color Modes

Environmental Rating

Waterproof

Battery type

(2) x CR123A

Battery Life

4+ Hours

Mounting bracket

MIL-STD 1913 Picatinny (Quick-Detach)

Output computer set up

Yes

Video output

Yes

Low Battery Indicator

Yes

Iconology

Quick access, Icon driven feature controls

Dimensions

7.45" x 2.7" x 2,56" / 189 x 69 x 65 mm

Weight, grams

1.45 lb / 0.64 kg

Warranty

3 Years

Home | Contact Us | About KERIF | Export Regulations | How to Order
<![if !vml]>

<![endif]> <![if !vml]>

<![endif]>
(702) 324-6463 / (702) 869-8451 FAX
sales@nitevis.com or kerifnightvision@earthlink.net